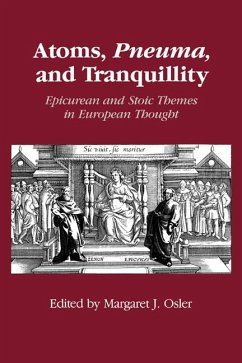 Andere Kunden interessierten sich
auch
für


Table of contents:
Introduction Margaret J. Osler and Letizia A. Panizza; 1. Ethics and logic in stoicism Gerard Verbeke; 2. Medieval connectives, Hellenistic connections: the strange case of propositional logic Calvin G. Normore; 3. Stoic psychotherapy in the Middle Ages and Renaissance: Petrarch's De Remediis Letizia A. Panizza; 4. Alonso de Cartagena and John Calvin as interpreters of Seneca's De Clementia Nicholas G. Round; 5. The Epicurean in Lorenzo Valla's On Pleasure Maristella de P. Lorch; 6. Seneca's role in popularizing Epicurus in the Renaissance Louise Fothergill-Payne; 7. Stoic contributions to early modern science Peter Barker; 8. Fortune, fate, and divination: Gassendi's voluntarist theology and the baptism of Epicureanism Margaret J. Osler; 9. Epicureanism and the creation of a privatist ethic in early seventeenth-century France Lisa Tunick Sarasohn; 10. Robert Boyle on Epicurean atheism and atomism J. J. Macintosh; 11. Stoic and Epicurean doctrines in Newton's system of the world B. J. T. Dobbs; 12. Locke, Willis, and the seventeenth-century Epicurean soul John P. Wright; 13. The Epicurean way of ideas: Gassendi, Locke, and Berkeley Thomas M. Lennon; 14. The stoic legacy in the early Scottish enlightenment M. A. Stewart.

This volume examines the influence that Epicureanism and Stoicism, two philosophies of nature and human nature articulated during classical times, exerted on the development of European thought to the Enlightenment. Their influence in the areas of literature, philosophy, theology, and science are considered.

Addresses the question of the influence that Epicureanism and Stoicism exerted on the development of European thought from classical times to the Enlightenment.
Produktdetails
Verlag: Cambridge University Press
Seitenzahl: 320
Erscheinungstermin: 23. Februar 2016
Englisch
Abmessung: 235mm x 157mm x 23mm
Gewicht: 646g
ISBN-13: 9780521400480
ISBN-10: 0521400481
Artikelnr.: 29339212