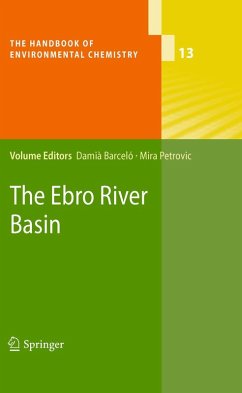 Andere Kunden interessierten sich
auch
für


The primary objective of the book is to lay the foundation for a better understanding of the behavior of environmental pollutants and their fluxes with respect to climate and land use changes.

Produktdetails
The Handbook of Environmental Chemistry 13
2011
Seitenzahl: 448
Erscheinungstermin: 27. Februar 2013
Englisch
Abmessung: 235mm x 155mm x 24mm
Gewicht: 674g
ISBN-13: 9783642266584
ISBN-10: 3642266584
Artikelnr.: 37203594
The physical framework and historic human influences in the Ebro River.- Hydology and sediment transport.- Hydrological impacts of climate change on the Ebro River basin.- Dams and Reservoirs in the lower Ebro River and its effects on the river thermal cycle.- Dissolved fluxes of the Ebro River basin (Spain): Impact of main lithologies and role of tributaries.- Aquatic and riparian biodiversity in the Ebro watershed: prospects and threats.- Persistent organic pollutants in water, sediments and biota in the Ebro River basin.- Origin, occurrence and behaviour of brominated flame retardants in the Ebro basin.- Pesticides at the Ebro River delta: Occurrence and toxicity in water and biota.- Sources, occurrence and environmental risk assessment of pharmaceuticals in the Ebro River basin.- Mercuty in aquatic organisms of the Ebro River basin.- Drugs of abuse along the Ebro River basin: occurrence in surface and wastewater and derived consumption estimations.- Biological effects of chemical pollution in feral fish and shellfish populations from Ebro River. From molecular to individual level responses.- Climate change, water resources and pollution in the Ebro Basin - towards an integrated approach.- Chemometric analysis and mapping of environmental pollution sources in the Ebro River basin.- Experiences and lessons learned on the implementation of the water framework directive in selected European river basins.