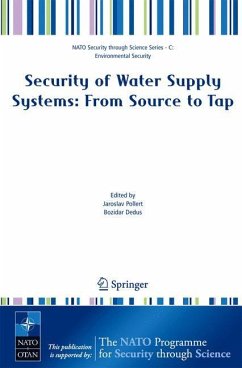 Produktdetails
NATO Security through Science Series C: Environmental Security
Verlag: Springer Netherlands
Erscheinungstermin: Januar 2006
Englisch
Abmessung: 241mm x 156mm x 15mm
Gewicht: 295g
ISBN-13: 9781402045622
ISBN-10: 140204562X
Artikelnr.: 25881006
Preface. Acknowledgement. List of participants. Management of Water Supply Systems in Slovenia and its Integration on the State, Regional and Local Level; P. Banovec.- Failure Mechanisms and Monitoring Methodologies Pertinent for Detection of Exposure Risks in Water Distribution Network; E.A. McBean.- Monitoring of Organic Micro Contaminants in Drinking Water Using a Submersible UV/VIS Spectrophotometer; J. van den Broeke et al.- Expected Development in the Supply and Distribution of Drinking Water in Czech Republic; I. Cihakova.- Use of Distribution System Water Quality Models in Support of Water Security; W.M. Grayman.- Vulnerability of Water Distribution Systems to Leakage; V. Havlik.- Real Time Analysis for Early Warning Systems; P. Ingeduld.- Mathematical Model as a Tool to Ensure High Quality of Drinking Water in a Distribution System; K. Slavícková et al.- An Integrated Water Quality Security System for Emergency Response; W.B. Samuels et al.- Evaluation and Monitoring of Snow Cover Water Resources in Carpathian Basins Using Geographic Information; G. Stancalie et al.- Development of a Complex System for Pipeline Design in Slovakia; S. Stanko et al.- Water Resources of the Crisuri River Basin -Quality & Security; O. Streng, C. Morar.- Security of Water Supply and Sewerage Systems in Slovakia - Present State; K. Tóthová, I. Mahríková.- Risk Analysis of Water Distribution Systems; L. Tuhovcak et al.