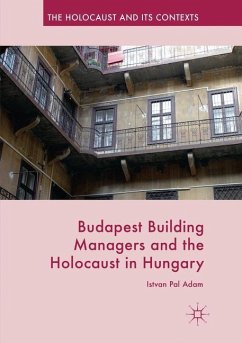 Andere Kunden interessierten sich
auch
für
Produktdetails
The Holocaust and its Contexts
Artikelnr. des Verlages: 978-3-319-81613-5
Softcover reprint of the original 1st ed. 2016
Seitenzahl: 220
Erscheinungstermin: 7. Juli 2018
Englisch
Abmessung: 210mm x 148mm x 12mm
Gewicht: 293g
ISBN-13: 9783319816135
ISBN-10: 3319816136
Artikelnr.: 53581754
1. Building Managers Caught in the Middle.- 2. The Ghettoization Period in Budapest.- 3. The History of the Ghetto Buildings.- 4. Building Managers as Bridges in the Community.
---
"Adam's book is not 'only' a fascinating reading about how Jewish-Gentile lives were intertwined in wartime Budapest. Importantly, by examining the life of concierges inside and outside... Adam contextualizes their actions (and inactions) vis-à vis other actors and the Holocaust as an event. ... Adam's book is a vital reminder of how anti-Jewish prejudices, but also lust for power and eagerness to climb the social ladder, enabled the persecution of a largely assimilated minority." (Hana Kubátová, H-Nationalism, H-Net Reviews, April, 2018)
"Ádám's study is illuminating because it highlights the sensibilities and motivations of local people, who, in their own incongruent ways, played a role in the implementation of the Holocaust at the local level. ... His book is to be celebrated for its courage, analytical clarity, and humaneness, qualities that will push Holocaust research forward into new, exciting territory." (Ilse Josepha Lazaroms, East Central Europe, Vol. 45, 2018)
"The large amount of evidences and the accurate work done in this study is the key element of the narration of an extremely hard episode of European story. The evidence-based method Palm uses allows the reader vibe with the crudeness of the lives stories included in the book with the rigor that characterized them. Definitely, this study can attract historian and educational researchers as well as any non-expert people in those disciplines." (Helena Prieto, HSE - Social and Education History, Vol.
7 (1), 2018)