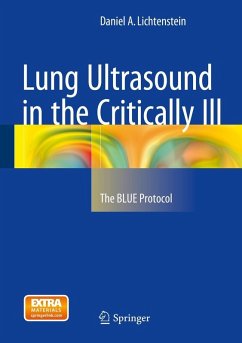 Andere Kunden interessierten sich
auch
für
---
Dieser Download kann aus rechtlichen Gründen nur mit Rechnungsadresse in A, B, BG, CY, CZ, D, DK, EW, E, FIN, F, GB, GR, HR, H, IRL, I, LT, L, LR, M, NL, PL, P, R, S, SLO, SK ausgeliefert werden.
Produktdetails
Verlag: Springer-Verlag GmbH
Erscheinungstermin: 29.09.2015
Englisch
ISBN-13: 9783319153711
Artikelnr.: 43909970
The tools of the BLUE-protocol : Basic notions: the indispensable.- Which unit.- Which probe.- Specific notions.- The seven principles of L.U.C.I..- The BLUE-points.- The 10 signatures at a glance.- The pleural line.- The A-profile and the A-line.- The A-profile and lung sliding.- The B-line.- Interstitial syndrome and lung rockets.- The B-profile, the B'-profile.- The A'-profile and pneumothorax.- PLAPS.- PLAPS and pleural effusion.- PLAPS and lung consolidation. The C-profile.- BLUE-DVT. Deep venous thrombosis in the BLUE-protocol.- Simple emergency cardiac sonography.- The BLUE-protocol in clinical use : Basic principle of the BLUE-protocol. The 8 profiles. The data.- Excluded patients of the BLUE-protocol.- Frequently asked questions on the BLUE-protocol.- The BLUE-protocol and pneumonia.- The BLUE-protocol and acute hemodynamic pulmonary edema.- The BLUE-protocol, asthma and COPD.- The BLUE-protocol and pulmonary embolism.- The BLUE-protocol and pneumothorax.- The main products derived from the BLUE-protocol: Pink-protocol (lung ultrasound in ARDS).- The LUCI-FLR project (decrease of medical irradiation).- FALLS-protocol (heart, lung, venous ultrasound in management of acute circulatory failure).- SESAME-protocol (ultrasound in cardiac arrest).- Extension of lung ultrasound to specific disciplines, wider settings, various considerations: Lung ultrasound in the neonate.- All specialties involved in lung ultrasound.- Critical ultrasound, lung, heart and DVT apart.- The Extended BLUE-protocol.- Non critical ultrasound.- Various considerations.- How to learn the BLUE-protocol.- Holistic ultrasound, a new definition - how it can impact critical medicine.- Lung artifacts from A to Z.
"The introduction to Lung Ultrasound in the Critically Ill: The BLUE Protocol highlights the development of lung US for the critically ill and the hurdles encountered. ... this book serves as an excellent reference for the topic of lung US from a comprehensive approach that has not previously been available. The author provides thorough background and has structured the concepts so as to appeal to any acute care specialty." (Davinder Ramsingh, Anesthesia & Analgesia, Vol. 125 (4), October, 2017) "The book reflects the colossal experience of a dedicated physician evaluating the lungs with simple ultrasound technology. It is rich in practical points, clinical pearls, anecdotes, and historical and philosophical citations. ... Dr. Lichtenstein is one of the pioneers of bedside ultrasound. Hence, the book is also the history of three decades of personal struggle to advance bedside ultrasound to where it is today. ... a unique book which we believe will become an instant classic." (André Denault, Martin Girard and Yiorgos Alexandros Cavayas, Canadian Journal of Anesthesia/Journal canadien d'anesthésie, February, 2016)