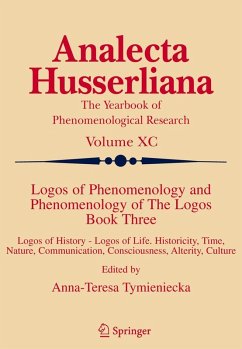 Andere Kunden interessierten sich
auch
für


Phenomenology of life projects a new interrogative system for reexamining these questions.

We are invited to follow the logos of life as it spins in innumerable ways the interplay of natural factors, human passions, social forces, science and experience - through interruptions and kairic moments of accomplishment - in the human creative imagination and intellective reasoning. There then run a cohesive thread of reality.

Produktdetails
Analecta Husserliana Vol.90
Verlag: Springer Netherlands
Softcover reprint of hardcover 1st ed. 2006
Seitenzahl: 576
Erscheinungstermin: 19. November 2010
Englisch
Abmessung: 229mm x 152mm x 30mm
Gewicht: 823g
ISBN-13: 9789048169405
ISBN-10: 9048169402
Artikelnr.: 32109258
Theme.- Toward Phenomenology of History.- Mark E. Blum: Phenomenological History and Phenomenological Historiography.- Kathleen Haney: Phenomenology and the Challenge of History.- Filiz Peach: Phenomenology, Historicity in Karl Jasper's Philosophy.- Shoichi Masuba: Does History have a Purpose? History Theory of Merleau-Ponty in the Latter Half of the 1940s.- Nicoletta Ghigi: History as the Unveiling of the Telos. The Husserlian Critique of the Weltanschauungen.- Time, Consciousness, Historicity.- Rafel Winkler: Husserl and Bergson on Consciousness and Time.- Konrad Rokstad: The Historicity of Nature.- Oliver W. Holmes: The Enlightenment and Early Romantic Concepts of Nature and the Self.- Jessica Wiskus: Vertical Time: Couperin's Passacaille.- Marta Avelina Cecilia Lafuente: Social Imagination and History in Paul Ricoeur.- Marta Figueras Badia: Anxiety and Time in the Hermeneutic Phenomenology of Heidegger.- Maija Kule: Principle of Historicity in the Phenomenology of Life.- Time, Alterity and Subjectivity: Reflections on the Philosophy of Emanuel Levinas.- Richard I. Sugarman: Emmanuel Levinas and the Deformalization of Time.- Roger Duncan: Emmanuel Levinas: Non- Intentional Consciousness and the Status of Representational Thinking.- Shmuel Wygoda: The Phenomenology of Time in the Philosophy of Levinas: Temporality and Otherness in the Hebraic Tradition.- Time-Space and The Worlds, External and Internal.- Andrina Tonkli-Komel: Lifeworld between Scientific and Cultural Experience: on 'European Crisis'.- Judith A. Glonek: Time, Space and Being in the Internal and External Worlds During the Lifecourse.- Richard Webster: Space Travel: When 'Space' is a Metaphor.- Mamuka G. Dolize: Phenomenology of Life of Anna-Teresa Tymieniecka and Some Issues of Contemporary Georgian Philosophy.- Wlodzimierz Pawliszyn: The Philosophical Sense is the Mature Sense- Husserl'sReflections on the Measure of Philosophy.- Julia Ponzio: Language, Time and Otherness.- Martin Holt: Virtual Decadence.- World of Life, Communication and Culture.- Carmen Cozma: Some Considerations Concerning the Question of Measure in the Phenomenology of Life.- Erkut Sezgin: The Interfacing of Language and World.- Jozef Sivák: De l'Idéa de forme Phénoménologique.- John Murungi: Husserl and the Crisis of Philosophy.- Dean Komel: Phenomenological Hermeneutics of Intermediacy and the Constitution of Intercultural Sense.- William D. Melaney: Arendt's Revision of Praxis: On Plurality and Narratice Experience.- Danzankhorloo Dashpurev: Phenomenology in Mongolia.- Kiymet Selvi: Phenomenology of Lifelong Learning.- Matti Itkonen: From the Station to the Lyceum.- Index of Names.- Appendix: The Program of the Oxford Third World Congress.