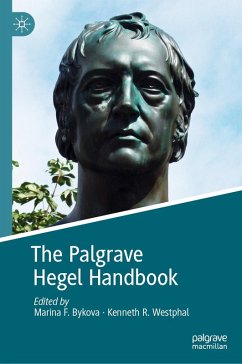 Andere Kunden interessierten sich
auch
für
---
Dieser Download kann aus rechtlichen Gründen nur mit Rechnungsadresse in A, B, BG, CY, CZ, D, DK, EW, E, FIN, F, GR, HR, H, IRL, I, LT, L, LR, M, NL, PL, P, R, S, SLO, SK ausgeliefert werden.
Produktdetails
Verlag: Springer-Verlag GmbH
Erscheinungstermin: 29.04.2020
Englisch
ISBN-13: 9783030265977
Artikelnr.: 59345897
Part I: Intellectual Background and Philosophical Porject.- 1. Hegel: His Life and His Path in Philosophy. Marina F. Bykova.- 2. Situating Hegel. From Transcendental Philosophy to a Phenomenology of Spirit . Michael Baur.- 3. Kant, Hegel and the Historicity of Pure Reason. Kenneth R. Westphal.- 4. Hegel's Epistemology. Giuseppe Varnier.- Part II: Phenomenology of Spirit.- 5. The Role of Religion in Hegel's Phenomenological Justification of Philosophical Science. Ardis B. Collins.- 6. Absolute Spirit in Performative Self-relation of Persons. Pirmin Stekeler-Weithofer.- 7. Individuality and Human Sociality. Individualism and our Human Zoôn Politikon. Kenneth R. Westphal.- Part III: Science of Logic and System of Philosophy.- 8. Method in Hegel's Dialectic-Speculative Logic. Angelica Nuzzo.- 9. Aufhebung , John W. Burbidge.- 10. Freedom as Belonging: A Defence of Hegelian Holism. Henry M. Southgate.- Part IV: Philosophy of Nature.- 11. Levels of Reality or Development? Hegel's Realphilosophie and Philosophy of the Sciences. Michael Wolff.- 12. Causality, Natural Systems &hegel's Organicism, Kenneth R. Westphal.- 13. Hegel's Philosophy of Natural and Human Spaces. Cinzia Ferrini.- Part V: Philosophy of Spirit.- 14. Embodied Cognition, Habit, and Natural Agency in Hegel's Anthropology. Italo Testa.- 15. Sentience and Feeling in the Anthropology. Allegra de Laurentiis.- 16. Intuition, Representation, and Thinking. Hegel's Psychology and the Placement Problem. Markus Gabriel.- 17. Hegel on Poetry, Prose and the Origin of the Arts. Allen Speight.- 18. Hegel's Recasting of the Theological Proofs. Robert R. Williams.- Part VI: Practical and Political Philosophy.- 19. Logic and Social Theory: Hegel on the Conceptual Significance of Political Change. Christopher L. Yeomans.- 20. Sittlichkeit and the Actuality of Freedom. On Kant and Hegel. Christian H. Krijnen. 21. Speculative Institutionalism. Hegel's Legacy for Any Political Economy that Will Be Able to Present Itself As a Science. Ivan Boldyrev. 22. Hegel's Philosophy of Bildung . Marina F. Bykova.- Part VII: Philosophy of World History and History of Philosophy.- 23. Hegel's Philosophy of World History. Andreas Arndt.- 24. Freedom and the Logic of History. Simon Lumsden.- 25. History of Philosophy in Hegel's System. Nelly V. Motroshilova.- Part VIII: Hegelianism and Post-Hegelian Thought.- 26. Hegel and Recent Analytic Metaphysic. Paul Redding.- 27. Hegel's Pragmatism. Willem de Vries.- 28. The "Pittsburgh" Neo-Hegelianism of Robert Brandom and John McDowell. Paul Redding.- Part IX: Chronologies.


"The Palgrave Hegel Handbook clearly offers more than the other collections when it comes to topics in Hegel's epistemology and philosophy of mind. ... I shall simply state that there is a great deal in this volume that will be of interest to Hegel scholars and students, and that the Palgrave Hegel Handbook provides a valuable addition to the resources available to anyone engaging seriously with almost any facet of Hegel's work." (Robb Dunphy, Phenomenological Reviews, reviews.ophen.org, September 22, 2020)