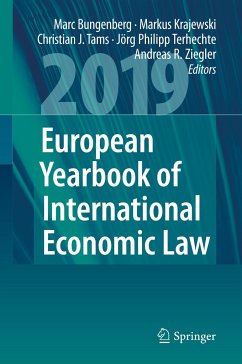 In its regional section, EYIEL 10 addresses recent developments in the US and the EU, including the US' trade policy strategy towards China as well as the reform of the NAFTA. In its part on institutions, EYIEL 10 focusses inter alia on the role of the rule of law in relation to current practices of the International Monetary Fund and of the WTO's Appellate Body as an international court. Furthermore, it provides an overview of current cases before the WTO. Finally, the volume entails a section with review essays on recently published books in the field of international economic law and international investment law.


Produktdetails
European Yearbook of International Economic Law .10
Artikelnr. des Verlages: 978-3-030-22484-4
1st ed. 2020
Seitenzahl: 492
Erscheinungstermin: 14. Januar 2020
Englisch
Abmessung: 241mm x 160mm x 32mm
Gewicht: 894g
ISBN-13: 9783030224844
ISBN-10: 3030224848
Artikelnr.: 56529881
Part I 100 Years International Labour Organizations.- The ILO as an Actor in International Economic Law: Looking Back, Gazing Ahead.- The ILO and the New 'Common Sense': Reflections on a Centenary.- Decent Work in Global Supply Chains: Mapping the Workof the International Labour Organization.- Supervision of International Labour Standards as a Meansof Implementing the Guiding Principles on Business and Human Rights.- Labour Safeguards of International Financial Institutions: Can They Help to Avoid Violations of ILO Core Labour Standards?.- Linkages of Trade, Investment and Labour in Preferential Trade Agreements: Between Untapped Potential and Structural Insufficiencies.- From International Framework Agreements to Transnational Collective Bargaining.- The ILO Tripartite Declaration of Principles Concerning Multinational Enterprises and Social Policy Revisited: Is There a Need for Its Reform?.- Part II Regions.- Grading Trump's China Trade Strategy.- The Renegotiation of NAFTA: The "Most Advanced" Free Trade Agreement?.- EU Free Trade Agreements as an Instrument of Promoting the Rule of Law in Third Countries: A Framework Paper.- Challenges to International Investment Law Within the European Union.- Part III Institutions.- Rule of Law in International Monetary and Financial Law: Reviving Old Spectres.- The Appellate Body of the WTO: An International Court by Another Name.- Overview of WTO Jurisprudence in 2017.- Part IV Book Reviews.- Irmgard Marboe, Calculation of Compensation and Damages in International Investment Law, 2nd Edition.- Duncan French and Louis J. Kotzé (Eds.), Sustainable Development Goals - Law, Theory and Implementation.- Armin Steinbach, EU Liability and International Economic Law.- Robert Howse, Hélène Ruiz-Fabri, Geir Ulfstein, Michelle Q. Zang, (Eds.), The Legitimacy of International Trade Courts and Tribunals.- Valentina Vadi, Proportionality, Reasonableness and Standards of Review in International Investment Law and Arbitration.- Stephan Griller, Walter Obwexer, and Erich Vranes (Eds.), Mega-Regionals Trade Agreements: CETA, TTIP, and TiSA - New Orientations for EU External Economic Relations.- Constantine Michalopoulous, Aid, Trade and Development. 50 Years of Globalization (Palgrave Macmillan, 2017, ISBN 9783319658605)/Clair Gammage, North-South Regional Trade Agreements as Legal Regimes. A Critical Assessment of the EU-SADC Economic Partnership Agreement (Edward Elgar, 2017, ISBN 9781784719616).