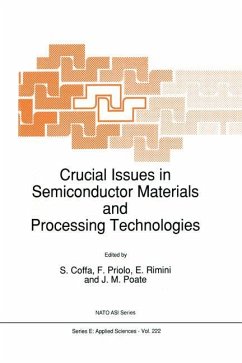 Produktdetails
NATO Science Series E Vol.222
Verlag: Springer Netherlands
1992.
Seitenzahl: 562
Erscheinungstermin: 31. Oktober 1992
Englisch
Abmessung: 241mm x 160mm x 35mm
Gewicht: 964g
ISBN-13: 9780792320036
ISBN-10: 0792320034
Artikelnr.: 21644886
Defect Aspects of Advanced Device Technologies.- Field Effect Analysis in Low Voltage Operation a-Si:H Thin Film Transistors with Very Thin PECVD a-SiO2 Gate Dielectric.- Silicon and Silicon: Germanium Alloy Growth; Means and Applications.- Preparation and Characterization of Silicon Ribbons.- Rapid Thermal Chemical Vapor Deposition of Six Ge1-x Alloys on Si and SiO2 and New Applications of Six Ge1-x Alloys in Advanced MOSFET Processes.- Kinetics and Dynamics of MBE Growth.- Effects of Near-Interface Defects on the Optical Properties of MBE Grown GaAs/AlGaAs Layers.- Optoelectric Materials.- Electrical Characteristics of PECVD Silicon Nitride/Compound Semiconductor Interfaces for Optoelectronic Device Passivation.- Fundamentals of Semiconductor Processing.- Optical Analysis of Oxygen in Epitaxial Silicon.- Electrical Properties of "Clean" and Fe-Decorated Stacking Faults in p-type Si.- On the Dirty Contacts on n-type Silicon.- Mössbauer Study of the DX-Center in Te-Implanted Alx Ga1-x As.- Surface Science and Semiconductor Processing.- Lithography for Manufacturing at 0.25 Micrometer and Below.- Basic Aspects of Ion Implantation.- Trends in Ion Implantation for Semiconductor and Optical Materials Research.- Orientation Phenomena in MeV Implants of P in Si.- Deep Implants by Means of Channeling: Ion Distribution and Radiation Damage in Angle Controlled N+ Implantation in Silicon.- Dislocation Formation in Si Implanted at Elevated Temperature.- Preparation and Characterization of Thin Film Simox Materials.- The Effect of Electronic Energy Loss on Epitaxial YBa2Cu3O7 Thin Films After Heavy Ion Irradiation and Annealing up to Room Temperature.- Structural Study of The Epitaxial Realignment of Polycrystalline Si Films onto Si Substrates.- Plasma Immersion Ion Implantation: A Perspective.- A Sheet Stress Measurement Technique Using Thin Films to Measure Stresses in Inert-Gas Implanted Silicon.- Plasma Etching Processes.- Charge Trapping, Degradation and Wearout of Thin Dielectric Layers During Electrical Stressing.- Minority Carrier Lifetime Measurements After High Temperature Pretreatment.- Copper-Based Metallization.- Thermal Stability of Ti-Mo and Ti-Cu Bilayer Thin Films on Alumina.- Hyperfine Fields in Epitaxially Grown Co on GaAs.- Titanium Nitride Process Development.- Materials Aspects and Implementation of Silicides for ULSI.- Ion Beam Synthesis of Buried Iron Disilicide.- Diffusion in Cobalt Suicide During Silicide Formation.- Formation of Germanides by Rapid Thermal Annealing and Their Applications in Advanced MOSFET Processes.- Diffusion in Crystalline Silicon and Germanium - The State of the Art in Brief.- Symmetry Methods in Diffusion.- Diffusion of Gold in Sputtered Amorphous Silicon.- Dopant Diffusion and Point Defects in Silicon During Silicidation.- Lateral Diffusion Couples and Their Contribution to Understanding Thin Film Reactions.- Diffusion and Defects in Amorphous Silicon.- EPR Study of Defects Produced by MeV Ion Implantation into Silicon.- Vacancy Character of Damage Zones in Ion-Irradiated Silicon.- Multiple Amorphous States in Ion Implanted Semiconductors (Si and InP).- The Mechanism of Solid Phase Epitaxy.- The Amorphous Side of Solid Phase Epitaxy.- Metal-Enhanced Growth of Silicon.- Ion-Assisted Phase Transitions in Silicon.- Ion-Assisted Nucleation in Amorphous Silicon.- List of Participants.