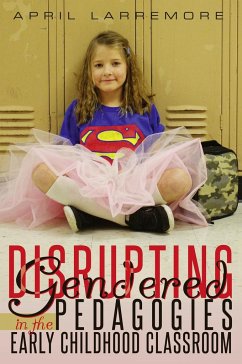 Young children's access to knowledge about gender, relationships, and sexuality has critical implications for their health and well-being, not only in their early years but throughout their lives. This knowledge can build children's competencies and resilience, contributing to new cultural norms of non-violence in gendered and sexual relationships. For many early childhood teachers, interacting with children about issues concerning gender and sexuality is fraught with feelings of uneasiness and anxiety. For others, familiarity with research on these topics has resulted in rethinking their approaches to sex, gender, and sexuality in their early childhood classrooms. The pedagogical project discussed in Disrupting Gendered Pedagogies in the Early Childhood Classroom examines the tensions associated with one teacher's attempts to rethink gendered narratives and childhood sexuality in her own classroom. This project illustrates that it is possible for early childhood teachers to use feminist poststructuralism and queer theory to deepen their understandings and responses to children's talk, actions, and play regarding sex, gender, and sexuality and to use these understandings to inform their professional practice.
Produktdetails
Childhood Studies .2
Verlag: Peter Lang, Pieterlen
Artikelnr. des Verlages: .313302, 313302
Neuausg.
Seitenzahl: 141
Erscheinungstermin: 31. März 2016
Englisch
Abmessung: 228mm x 154mm x 15mm
Gewicht: 320g
ISBN-13: 9781433133022
ISBN-10: 1433133024
Artikelnr.: 44771630
Contents: Can I Rethink My Kindergarten Teaching? - Critical Autoethnography and Possibilities for Reframing Teaching Practices - Disrupting Dominant Constructions - Gender and the Schooling of Girls and Boys - Shifting Identities, Multiple Subjectivities, and the (Re)Making of a Teacher - Creating Liminal Classroom Spaces: Acknowledging My Disruptive Teacher Voice - A Letter to Teachers Who Would Be Critical, Disruptive and Transformative - Moving Forward in the Journey: Creating a Critically Conscious Classroom.