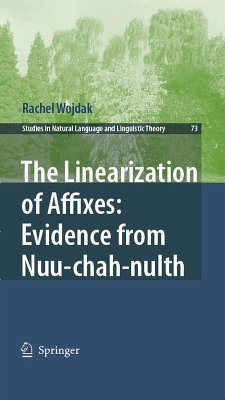 Andere Kunden interessierten sich
auch
für
---
Dieser Download kann aus rechtlichen Gründen nur mit Rechnungsadresse in A, B, BG, CY, CZ, D, DK, EW, E, FIN, F, GR, HR, H, IRL, I, LT, L, LR, M, NL, PL, P, R, S, SLO, SK ausgeliefert werden.
Produktdetails
Verlag: Springer-Verlag GmbH
Seitenzahl: 238
Erscheinungstermin: 8. Dezember 2007
Englisch
ISBN-13: 9781402065484
Artikelnr.: 37359363
Chapter 1 Introduction. Introduction. Theoretical assumptions. Interface requirements. 'Bottom-to-top' syntactic derivation. Syntax 'all the way down'. Linearization . Proposal: local spell-out. Alternative models for the timing of spell-out. Affixal predicates in Nuu-chah-nulth. Research context. Genetic affiliations. Previous literature. Overview of word structure in Nuu-chah-nulth. Methodology. Outline of the book.- Chapter 2 PF Incorporation. Introduction. Morpho-phonological dependency. Linearization is local. Iterativity. Modifier incorporation. Adjective incorporation. Adverbial incorporation. Coordinated objects. Insensitivity to syntactic category. Absence of LF effects. Discourse transparency. Absence of scopal effects. Opacity effects. Opaque DPs and the bare nominal requirement. Opaque CPs and 'restructuring' effects. Impermeability of saturated domains. Conclusion.- Chapter 3 Clausal architecture of Nuu-chah-nulth. Introduction. Linearization of syntactic terminals. A universal linearization scheme?. Directionality is determined at spell-out. Directionality conventions. Comparison to headedness 'parameters'. Affixation patterns. Directionality conventions of Nuu-chah-nulth. Configurationality. Partial head marking. An asymmetry in possessor raising. An asymmetry in incorporation. Weak Crossover effects. Predicate-initial word order. Proposal: 'Basic' predicate-initial order (VOS). Evidence for right-branching specifiers. Evidence against verb-raising. Evidence against raising of verbal phrase. Implications for the linearization of affixal predicates. The 'complement' effect. Evidence against directionality of affixation. Cliticization domains. DP domain. CP domain. Conclusion.- Chapter 4 Nominal complements of affixal predicates. Introduction. Predication configurations. Basic structures. Transitivization. Flexibility in theta-role mapping. Predicate inventory. Unergatives are necessarily non-affixal.Unaccusatives. Incorporation. Intransitivity in Nuu-chah-nulth. Absence of unergative affixal predicates. 'Long' possessor raising as a diagnostic for unaccusativity. Transitives. Incorporation. Subject agreement. Possessor raising. Extended unaccusatives. Locatum predicates. Incorporation. Subject agreement. Possessor raising. Location predicates. Incorporation. Subject agreement. Possessor raising. Ditransitives. Locatum-type ditransitives. Location-type ditransitives. Serial verb affixation. Conclusion.- Chapter 5 Verbal complements of affixal predicates. Introduction. Two classes of 'verb incorporating' affixal predicates. Affixal main predicates. Affixal auxiliary predicates. Affixal auxiliaries are non-thematic. Rigid vs. alternating complementation. Ability to license a 'mismatched' subject. Citation forms. Summary. PF Incorporation occurs only in infinitival environments. Absence of clausal morphology. No tense. No person/mood agreement. No complementizer. Lack of clause-boundedness effects. 'Long' wh-movement. 'Long' possessor raising. 'Long' possessor raising with affixal auxiliaries. No 'long' possessor raising with affixal main predicates. Conclusion.- Chapter 6 Implications. Introduction. Summary. Theoretical implications. Spell-out is strictly interpretive. Comparison to 'phasal' spell-out. Variation in permeability of CP domains. The status of the vP domain. The head movement question. Linearization is purely phonological. Syntactic head movement is more complex. Local spell-out creates 'outside-in' dependencies. 'Inside-out' dependencies are not possible via local spell-out. Evidence from Kwakw'ala (Northern Wakashan). Affixation as primitive or derived. Typological implications. The typology of noun incorporation. The governing/restrictive hypothesis in Wakashan. Lexical suffixation as an areal feature of the Pacific Northwest. Conclusion.- References.- Appendix: Orthography.