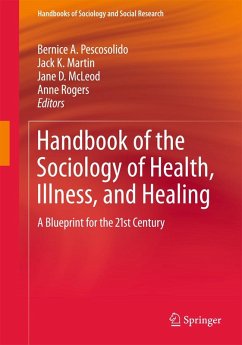 Andere Kunden interessierten sich
auch
für
Handbook of the Sociology of Health, Illness & Healing advances the understanding of medical sociology by identifying the most important contemporary challenges to the field and suggesting directions for future inquiry. The editors provide a blueprint for guiding research and teaching agendas for the first quarter of the 21st century.


Produktdetails
Handbooks of Sociology and Social Research
Verlag: Springer / Springer, Berlin
Artikelnr. des Verlages: 12283262, 978-1-4419-7260-6
Erscheinungstermin: April 2013
Englisch
Abmessung: 254mm x 178mm x 31mm
Gewicht: 1056g
ISBN-13: 9781441972606
ISBN-10: 1441972609
Artikelnr.: 30681071
Rethinking Connecting Sociology's Role in Health, Illness & Healing From Top to Bottom .- Preface.- Taking "the Promise" Seriously: Medical Sociology in a Time of Change.- Framing the Context and Dynamics of Health and Health Care: The NEM.- Connecting Communities .- Welfare States, and Citizen's Welfare.- Taking Social Movements Seriously.- "Fundamental Causes" Expanded.- Of Politics and Health .- Community Systems Collide: the Case of the Legal and Mental Health System.- Connecting Health Systems and Health Care .- Medicalization Reconsidered: Understanding Consumer Response.- Conversations of Care.- Expanding Theories of the Doctor-Patient Relationship for Contemporary Landscape of Medicine.- Professions of Medicine.- The Power of Nurses.- The Health Care System.- The Organization of Care.- Health and Health Policy.- Systems of Healing.- Connecting Personal & Cultural Systems .- Taking Health Disparities to Task: The Socio-Cultural Framework.- Taking Social Networks Seriously.- Rethinking Cultural Methods: "Hearsay Ethnography" and the Case of HIV.- Gender Revisited.- The Health Paradox of the Black Middle Class.- Reconsidering Stigma: Lessons from Sociology's Legacy on Racial Prejudice and Discrimination.- Connecting the Illness Career .- Taking the Life Course Seriously.- Dynamics of Care.- Taking "History" and "history" Seriously.- Stories Matter.- Network Dynamic and Use of Services.- VI. Connecting the Individual and the Body .- Identity and Illness.- Taking Individuals Seriously: Developing Tailored Outcomes.- How Socio-Economic Status Works Through the Body to Shape Health and Illness.- Taking Biology Seriously.- Body Related Social Movements.