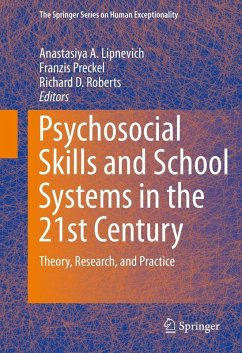 Andere Kunden interessierten sich
auch
für
This book provides a comprehensive overview and in-depth analysis of research on psychosocial skills, examining both theory and areas of application. It discusses students' psychosocial skills both as components of academic success and desired educational outcomes in grades K through 12. The book describes an organizing framework for psychosocial skills and examines a range of specific constructs that includes achievement, motivation, self-efficacy, creativity, emotional intelligence, resilience, and the need for cognition. In addition, it reviews specific school-based interventions and examines issues that concern the malleability of psychosocial skills. It addresses issues relating to the integration of psychosocial skills into school curriculum as well as large-scale assessment policies.
Topics featured in this book include:
Development of psychosocial skills in grades K-12.
Assessment of psychosocial skills.
Conscientiousness in education and its relation to meaningful educational outcomes.
Creativity in schools, including theory, assessment, and interventions.
Academic emotions and their regulation through emotional intelligence.
Resilience and school-based programs aimed at enhancing it.
Psychosocial Skills and School Systems in the 21st Century is a must-have resource for researchers, graduate students, clinicians, mental health professionals, and policymakers in child and school psychology, educational policy and politics, public health, social work, developmental psychology, and educational psychology.
---
Dieser Download kann aus rechtlichen Gründen nur mit Rechnungsadresse in A, B, BG, CY, CZ, D, DK, EW, E, FIN, F, GB, GR, HR, H, IRL, I, LT, L, LR, M, NL, PL, P, R, S, SLO, SK ausgeliefert werden.
Produktdetails
Verlag: Springer-Verlag GmbH
Erscheinungstermin: 02.04.2016
Englisch
ISBN-13: 9783319286068
Artikelnr.: 44884543
Part 1: General Background: Theory and Guiding Principles.- Chapter 1. Psychosocial Skills: Psychosocial Skills: Essential Components of Development and Achievement in K-12.- Chapter 2. Test Standards and Psychometric Modeling.- Chapter 3. Aligning Mission and Measurement.- Chapter 4. Personality Development During the School-Aged Years: Implications for Theory, Research, and Practice.- Part 2: Psychosocial Skills: Key Constructs.- Chapter 5. The Need for Cognition: Key Concepts, Assessment, and Role in Educational Outcomes.- Chapter 6. Understanding Creativity in the Schools.- Chapter 7. Conscientiousness in Education: Its Conceptualization, Assessment, and Utility.- Chapter 8. Self-Concept: Determinants and Consequences of Academic Self-Concept in School Concepts.- Chapter 9. Applying Social Cognitive Theory in the Development of Self-Regulated Competencies Throughout K-12 Grades.- Chapter 10. Student Motivation: Current Theories, Constructs, and Interventions within an Expectancy-Value Framework.- Chapter 11. Academic Emotions and Their Regulations via Emotional Intelligence.- Part 3: Psychosocial Skills: Applications.- Chapter 12. Fostering Psychosocial Skills: School-Based Promotion of Resiliency in Children and Adolescents.- Chapter 13. Teaching Emotional Intelligence in Schools: An Evidence-Based Approach.- Chapter 14. Psyhosocial Skills in Large-Scale Assessments: Trends, Challenges, and Policy Implications.- Part 4: Conclusions.- Chapter 15. Psychosocial Constructs: Knowns, Unknowns, and Where do we go From Here?.