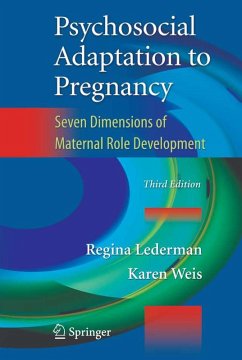 Produktdetails
Verlag: Springer, Berlin
3rd Edition.
Seitenzahl: 344
Erscheinungstermin: 16. November 2010
Englisch
Abmessung: 235mm x 155mm x 18mm
Gewicht: 522g
ISBN-13: 9781441981752
ISBN-10: 1441981756
Artikelnr.: 32217399
Introduction.- Acceptance of Pregnancy.- Identification with a Motherhood Role.- Relationship with Mother.- Relationship with Husband.- Preparation for Labor.- Prenatal Fear of Pain, Helplessness, And Loss of Control in Labor.- Prenatal Fear of Self-Esteem in Labor.- Prenatal and Postnatal Psychosocial Adaptation in Military Women.- Prenatal Adaptation among Multigravidas.- Quantitative and Qualitative Results.- Methods of Assessment: Psychosocial Adapatation to Pregnancy Questionnaire Scales and Interview Schedules, and Review of Interventions to Enhance Adaptation.
From the reviews of the third edition: "This book, which describes seven specific dimensions of maternal emotional health during pregnancy, is based on the authors' research into psychosocial risk factors and potential interventions. ... The audience ... includes Lamaze and other prenatal educators, as well as psychiatrists, psychologists, social workers, marriage and family therapists, professional counselors, the general public, and pregnant women. ... This is an excellent book. ... Anyone who conducts clinical activities with women of childbearing age will find this book informative." (Gary B. Kaniuk, Doody's Review Service, March, 2010)