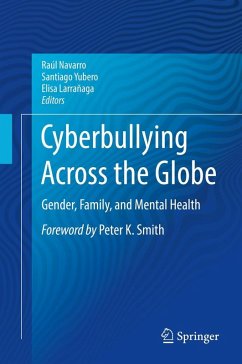 Andere Kunden interessierten sich
auch
für
Included in the coverage:
. Gender issues and cyberbullying in children and adolescents: from gender differences to gender identity measures. . Family relationships and cyberbullying. . Examining the incremental impact of cyberbullying on outcomes over and above traditional bullying in North America. . A review of cyberbullying and education issues in Latin America. . Cyberbullying prevention from child and youth literature. . Cyberbullying and restorative justice.
Cyberbullying across the Globe is an essential resource for researchers, graduate students, and other professionals in child and school psychology, public health, social work and counseling, educational policy, and family advocacy.
---
Dieser Download kann aus rechtlichen Gründen nur mit Rechnungsadresse in A, B, BG, CY, CZ, D, DK, EW, E, FIN, F, GR, HR, H, IRL, I, LT, L, LR, M, NL, PL, P, R, S, SLO, SK ausgeliefert werden.
Produktdetails
Verlag: Springer-Verlag GmbH
Seitenzahl: 281
Erscheinungstermin: 24. November 2015
Englisch
ISBN-13: 9783319255521
Artikelnr.: 44218995
Foreword: An International Perspective on Cyberbullying; Peter K. Smith .- Chapter 1. Cyberbullying: Definitions and Facts from a Psychosocial Perspective; Anastasio Ovejero, Santiago Yubero, Elisa Larrañaga, María de la V Moral .- Part I. Gender, Family, and Psychosocial Issues.- Chapter 2. Gender Issues and Cyberbullying in Children and Adolescents: From Gender Differences to Gender Identity Measures; Raúl Navarro .- Chapter 3. Gender Variables and Cyberbullying in College Students; Elisa Larrañaga, Santiago Yubero, Anastasio Ovejero .- Chapter 4. Gender Differences and Cyberbullying Towards Faculty Members in Higher Education; Wanda Cassidy, Margaret Jackson, and Chantal Faucher .- Chapter 5. Family Relationships and Cyberbullying; Sofia Buelga, Belén Martínez-Ferrer and Gonzalo Musitu .- Part II. Global Research.- Chapter 6. Cyberbullying Matters: Examining the Incremental Impact of Cyberbullying on Outcomes over and above Traditional Bullying in North America; Gary Giumetti and Robin Kowalski .- Chapter 7. Cyberbullying and Education: A Review of Emergent Issues in Latin America Research; Fabiola Cabra Torres and Gloria Marciales .- Chapter 8. Cyberbullying in Eastern Countries: Focusing on South Korea and Other Eastern Cultures; Seung-ha Lee .- Chapter 9. Cyberbullying Research in Belgium: An Overview of Generated Insights and a Critical Assessment of the Mediation of Technology in a Web 2.0 World; W annes Heirman, Michel Walrave, Heidi Vandebosch, Denis Wegge, Steven Eggermont, and Sara Pabian.- Chapter 10. Spanish Youth Perceptions about Cyberbullying: Qualitative Research into Understanding Cyberbullying and the Role that Parents Play in its Solution; Raúl Navarro and Cristina Serna.- Part III. Prevention and Intervention.- Chapter 11. Intervention and Prevention Programmes on Cyberbullying: A Review; Conor Mc Guckin and Lucie Corcoran .- Chapter 12. Cyberbullying and Restorative Justice; Susan Hanley Duncan .- Chapter 13. Reading and Texts: Cyberbullying Prevention from Child and Youth Literature; Santiago Yubero, Elisa Larrañaga, Sandra Sánchez, Cristina Cañamares .