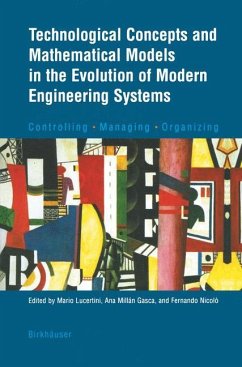 Andere Kunden interessierten sich
auch
für

The book is published with the support of the UNESCO Venice Office - Regional Office for Science & Technology in Europe as an activity of the Project: The evolution of events, concepts and models in engineering systems.
Produktdetails
Repr. d. Ausg. v. 2003
Seitenzahl: 268
Erscheinungstermin: 27. November 2003
Englisch
Abmessung: 241mm x 160mm x 21mm
Gewicht: 732g
ISBN-13: 9783764369408
ISBN-10: 376436940X
Artikelnr.: 12150873
I Mathematical Methods and Technological Thought: Historical Aspects.- 1 Mathematical Methods in Preindustrial Technology and Machines.- 1.1 Renaissance Architects-Engineers.- 1.2 Steps Towards Scientific Technology and Technical Mechanics.- 1.3 The Achievements of Leonardo da Vinci.- 1.4 Engineers of the 16th century.- 2 Organization and Mathematics: A Look into the Prehistory of Industrial Engineering Ana Millön Gasca.- 2.1 A New Branch of Engineering Science.- 2.2 Quantitative Studies and Labour and Production Organization: The Early Attempts between the 18th and 19th Centuries.- 2.3 Rationality and Mathematization.- 2.4 Measurement Mathematical and Techniques:The Birth of Industrial Engineering.- 2.5 A Fresh Start: The Birth of Operations Research.- 3 Technological Innovation and New Mathematics: van der Pol and the Birth of Nonlinear Dynamics.- 3.1 Radio Waves and Mathematical Modeling.- 3.2 From Radio to Limit Cycles.- 3.3 The Contribution of the Soviet School.- 3.4 The Heartbeat "Model".- 3.5 Concluding Remarks.- Appendix: Two Unpublished Letters Written by Balthasar van der Pol to Vito Volterra.- 4 Trasferring Formal and Mathematical Tools from War Management to Political, Technological, and Social Intervention (1940-1960).- 4.1 Operational Research and Mathematicians' Mobilization in World War II.- 4.2 Mathematical Tools for Managing Social and/or Complex Systems.- 4.3 An Emblematic Site for the Deployment of these Tools: The RAND Corporation.- 4.4 On a Few Characters of these New Scientific Modes.- 4.5 Three Short Remarks as Way of Conclusion.- II Technological Knowledge and Mathematical Models in the Analysis, Planning, and Control of Modern Engineering Systems.- 5 Technological Concepts and Mathematical Models in the Evolution of Control Engineering.- 5.1 Regulators and Servomechanism.- 5.2 Models in Control Engineering.- 5.3 Model Representations.- 5.4 Determination of Stability of a System.- 5.5 External Models: Impulse and Frequency Response.- 5.6 Stochastic and Sampled-Data Signals.- 5.7 State Space Models and Optimal Control.- 5.8 System Identification.- 5.9 Conclusion.- 6 Feedback: A Technique and a "Tool for Thought".- 6.1 Basic Elements of a Feedback Control System.- 6.2 Feedback Models of Some Technological Systems: Were their Inventors Aware of Such a Structure?.- 6.3 Feedback Loops in Mathematics and Computer Science.- 6.4 The Role of Feedback in Explanatory Models.- 6.5 Concluding Remarks.- 7 Adequacy of Mathematical Models in Control Theory, Physics, and Environmental Science.- 7.1 Mathematical Models of Technological Processes.- 7.2 Mathematical Modeling of Environmental Processes: Fluctuations in the Level of the Caspian Sea.- 7.3 Mathematical Simulation in the Civil Engineering Design of the Leningrad Dam.- 7.4 Mathematical Simulation of Physical Processes.- 8 The Development of Systems Science: Concepts of Knowledge as Seen from the Western and Eastern Perspective.- 8.1 Historical Perspective: Hard versus Soft Systems Science.- 8.2 Information Civilization: Megatrends and Challenges.- 8.3 Diverse Concepts of Knowledge.- 8.4 The Importance and Typical Forms of Mathematical Models Expressing Knowledge.- 8.5 An Example: Computerized Decision Support Systems.- 9 Coping With Complexity in the Management of Organized Systems.- 9.1 Forms of Complexity.- 9.2 The Forms of Simplification.- 9.3 Decentralized Management of Complex Organizations.- 9.4 Open Systems.- Index of Names.- Authors.