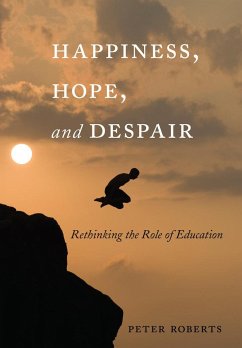 Produktdetails
Complicated Conversation .43
Artikelnr. des Verlages: .312098, 312098
Neuausg.
Seitenzahl: 140
Erscheinungstermin: 22. Oktober 2015
Englisch
Abmessung: 228mm x 151mm x 15mm
Gewicht: 320g
ISBN-13: 9781433120985
ISBN-10: 1433120984
Artikelnr.: 44162337
Contents: Living on the Edge - Happiness, Hope, and Despair in Education - Education, Faith, and Despair: Wrestling with Kierkegaard - Doubt, Discomfort, and Immortality: Educational Possibilities in the Work of Miguel de Unamuno - Attention, Asceticism, and Grace: Simone Weil and Higher Education - Hope, Despair, and Liberation: Paulo Freire and Educational Struggle - Educative Suffering? Dostoevsky as Teacher - Pain, Pleasure, and Peacefulness: An Educational Journey - Complicating the Curriculum: Happiness, Despair, and Education.
"While this is a book that can be read at a single sitting its deep philosophy of lived lives and what it is to be a human being requires ongoing reflection and pose some disturbing questions about the human condition that educators need to heed. It is a book that should have appeal beyond the confines of the university and should be used in courses of teacher education."
(Michael A. Peters, New Zealand Journal of Educational Studies Volume 52, Issue 1/2017)