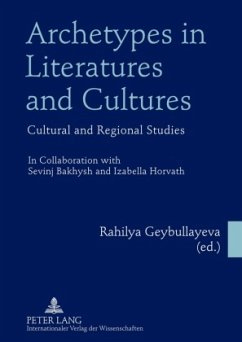 Produktdetails
Artikelnr. des Verlages: 263467
Neuausg.
Seitenzahl: 304
Erscheinungstermin: 26. Oktober 2012
Englisch
Abmessung: 208mm x 146mm x 20mm
Gewicht: 410g
ISBN-13: 9783631634677
ISBN-10: 3631634676
Artikelnr.: 36669504
Contents: Rahilya Geybullayeva: From Archetypal Situation to Archetypised Words or Words as a Unit of Semantic Reinterpretations - Kamal Abdullayev: Similarities in World Literature. Azerbaijani and Greek Epics (toward Invariants) - Izabella Horvath: Eurasian Folksong Texts as Carriers of Poetic Archetype - Aslan Mamedly: Scientific Discourse of Post-Totalitarian Regimes. Fears and Hopes - Simon Sorgenfrei: Renditions of Rumi in Europe and North America - Tatiana Megrelishvili: Archetype of the Creator. The Semantics of Cultural Universals of the East (Mikhail Lermontov's "Ashik-Kerib") - Angelina Saule: Desiring the Oriental "Other" in the Persian Poems of Velimir Klebnikov - Gorkhmaz Guliyev: Hamlet and Iskandar. The Breakdown of the Persona Archetype as a Condition for Identity Formation - Gonul Bakay: Faustus as Archetype - Mamed Godjaev: Archetype of the Russian Man in Dostoyevsky's Work - Khuraman Mursalieva: Gods Don't Talk, Poets Talk instead of Them (Archetype of Poet) - Sevinj Bakish: Archetype and Symbol of a Wise Old Man - Saddik M.Gohar: The Role of Translation in the Integration of Western/Christian Archetypes in Contemporary Arabic - Islamic Literature - Khalida Isa-zada: Symbols and Archetypes as Foundation of Phraseological Units in Languages - Hatice Övgü Tüzün: Dostoevsky's Underground Man as a Literary Archetype in Postmodern Literature - Elnare Garagyezova: The Mill Archetype in Literature - Gunay Garayeva: Symbolization of Celestial Bodies as an Archetype in the Azerbaijani New Period Poetry - Anuar Galiev: Archetypes of Turkic Culture - Irina Modebadze/Tamar Tsitsishvili: Artistic Personification of Opposites: Analyses of "Medea" by Sandro Shanshiashvili - Yordan Lyutskanov: The Holy Grail, Whore of Babylon (or Rome), Mother Earth, and the Purifying World Conflagration in the Works of Nikolay and Lev Gumilyov - Igor Yankov/Larisa Piskunova: The Archetype of Construction Sacrifice in the Formation of a City's Identity. From a "City-Factory" towards a "City of Consumer Goods Exhibition" - Elena Paskaleva: The Archetype of the Four in the Architecture of the Four-iwan Building Tradition.