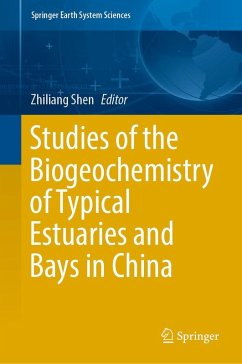 Andere Kunden interessierten sich
auch
für


The studies address different fields, such as biogeochemistry, marine chemistry, ecology, environmental science, oceanography and biology.


Produktdetails
Springer Earth System Sciences
Verlag: Springer / Springer, Berlin
Artikelnr. des Verlages: 978-3-662-58167-4
1st ed. 2020
Seitenzahl: 312
Erscheinungstermin: 5. Februar 2019
Englisch
Abmessung: 241mm x 160mm x 22mm
Gewicht: 606g
ISBN-13: 9783662581674
ISBN-10: 3662581671
Artikelnr.: 53637702
Source, Control and Transport of Nutrients in the Changjiang River and Its Estuary.- Nutrients and their transport in the Changjiang River.- The relationships of the nutrients in the Changjiang River estuary and the flow of the Changjiang River water.- Budget and control of nitrogen in the Changjiang River catchment and its mouth.- Budget and control of phosphorus in the Changjiang River catchment and its mouth.- Removal and Transport of Matters in the Changjiang and Yellow River Estuaries.- Removal and mass balance of phosphorus and silica in the turbidity maximum.- Nutrient dynamics of the upwelling area in the Changjiang estuary.- A new method for estimating fine-sediment resuspension ratios in estuaries.- The removal of zinc, cadmium, lead and copper in the Changjiang estuary.- Distributions and removals of nutrients in seawater and interstitial water of the sediments in the Huanghe River estuary.- Changes in Nutrients and Its Ecological Responses in the Changjiang River Estuary and Jiaozhou Bay.- Responses of a coastal phytoplankton community to increased nutrient input from the Changjiang River.- Long-term changes in nutrient structure and its influences on phytoplankton composition in Jiaozhou Bay.- Ecological responses of Phytoplankton to nutrient structure of seawater in Jiaozhou Bay.- Silica supply and diatom blooms in Jiaozhou Bay.- Particulate Organic Carbon and the Composition of Nutrient of Phytoplankton Particulate organic carbon and its composition in Jiaozhou Bay.- Nutrient compositions of cultured Thalassiosira rotula and Skeletonema costatum.- Differences in nutrient compositions of cultured marine diatoms: different sea.- Nutrient composition and biomass of Coscinodiscus asteromphalus in Jiaozhou Bay, China.