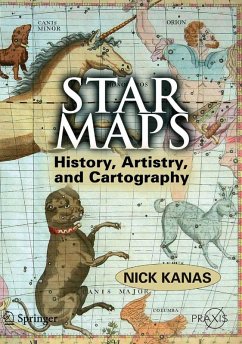 Andere Kunden interessierten sich
auch
für
---
Dieser Download kann aus rechtlichen Gründen nur mit Rechnungsadresse in A, B, BG, CY, CZ, D, DK, EW, E, FIN, F, GR, HR, H, IRL, I, LT, L, LR, M, NL, PL, P, R, S, SLO, SK ausgeliefert werden.
Produktdetails
Verlag: Springer-Verlag GmbH
Erscheinungstermin: 05.10.2007
Englisch
ISBN-13: 9780387716695
Artikelnr.: 37286473
Preface to Third Edition.- Foreword to First Edition.- Preface to First Edition.- Acknowledgments.- List of Figures.- List of Tables.- List of abbreviations and acronyms.- Chapter 1: What is a star map?.- Chapter 2: Non-European cosmology and constellation development.- Chapter 3: European cosmology.- Chapter 4: European constellation development.- Chapter 5: Early European star maps.- Chapter 6: The "Big Four" of the Golden Age of imaged star maps.- Chapter 7: Other important star maps of the Golden Age.- Chapter 8: Special topics.- Chapter 9: Mapping the stars in early America.- Chapter 10: The transition to non-imaged star maps.- Chapter 11: Terrestrial and celestial pictorial maps.- Chapter 12: Celestial images in artistic paintings.- Appendices.- Appendix A: Collecting celestial maps and prints.- Appendix B: Supplementary reference catalog.- Appendix C: Indices of major constellation atlases.- Appendix D: The British Library "Kings's" edition.- Appendix E: Glossary.- Index.

"This is a work that contains many items of relevance to astronomers, who will find the illustrations of atlases and charts of particular interest, albeit with many failings in the text and descriptions. It is probably of more interest to collectors of antiquarian maps (and even they will have some problems using it)." (Storm Dunlop, The Observatory, Vol. 140 (1278), October, 2020)
"You get a real bang for your buck with Kanas's tome. Now in its third edition, the book is well written, thoroughly researched, and beautifully illustrated with 226 images (141 in color) from actual antiquarian books and atlases. ... Star Maps should greatly appeal to amateur astronomers, map collectors, and historians of astronomy and art." (Peter Tyson, Sky & Telescope, August, 2020)
"Star Maps's comprehensiveness, for all its jackdaw tendencies, is on balance a virtue. Like a curiosity shop packed to the rafters, it almost certainly has what you're looking for tucked away somewhere." (Jonathan Crowe, Calafia Journal, Issue 01, 2020)
"Star Maps excels in the clarity of its writing, is highly accurate throughout, and will serve as the authoritative work on its subject for a very long time to come. This reviewer has a growing collection of astronomy books of well over a thousand in number now, and would include Star Maps as one among a small selection of books from his library he would say deserves to be read by every person interested in the history of astronomy." (Alan Agrawal, Diablo Moonwatch, January, 2020)