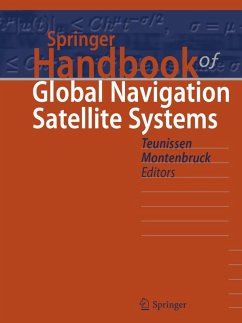 Andere Kunden interessierten sich
auch
für
All global and regional satellite navigation systems, both those currently in operation and those under development (GPS, GLONASS, Galileo, BeiDou, QZSS, IRNSS/NAVIC, SBAS), are examined in detail. The functional principles of receivers and antennas, as well as the advanced algorithms and models for GNSS parameter estimation, are rigorously discussed. The book covers the broad and diverse range of land, marine, air and space applications, from everyday GNSS to high-precision scientific applications and provides detailed descriptions of the most widely used GNSS format standards, covering receiver formats as well as IGS product and meta-data formats.
The full coverage of the field of GNSS is presented in seven parts, from its fundamentals, through the treatment of global and regional navigation satellite systems, of receivers and antennas, and of algorithms and models, up to the broad and diverse range of applications in the areas of positioning and navigation, surveying, geodesy and geodynamics, and remote sensing and timing.
Each chapter is written by international experts and amply illustrated with figures and photographs, making the book an invaluable resource for scientists, engineers, students and institutions alike.
---
Dieser Download kann aus rechtlichen Gründen nur mit Rechnungsadresse in A, B, BG, CY, CZ, D, DK, EW, E, FIN, F, GR, HR, H, IRL, I, LT, L, LR, M, NL, PL, P, R, S, SLO, SK ausgeliefert werden.
Produktdetails
Verlag: Springer-Verlag GmbH
Seitenzahl: 1327
Erscheinungstermin: 16.06.2017
Englisch
ISBN-13: 9783319429281
Artikelnr.: 53033791
Part A: Fundamentals of GNSS. .- Introduction to GNSS.- Time and Reference Systems.- Satellite Orbits and Attitude.- Signals and Modulation.- Clocks.- Atmospheric Signal Propagation.- Part B: Satellite Navigation Systems: .- The Global Positioning System (GPS).- GLONASS.- Galileo.- Chinese Navigation Satellite Systems.- Regional Systems.- Space Based Augmentation Systems.- Part C: GNSS Receivers and Architecture: .- Receiver Architecture.- Signal Processing.- Multipath.- Interference.- Antennas.- Simulators and Test Equipment.- Part D: GNSS Algorithms and Models: .- The Basic Observation Equations.- Combinations of Observations.- Positioning Model.- Least-Squares Estimation and Kalman Filtering.- Carrier Phase Integer Ambiguity Resolution.- Batch and Recursive Model Validation.- Part E: Positioning and Navigation: .- Precise Point Positioning.- Differential Positioning.- Attitude Determiantion.- GNSS/INS Integration.- Land and Marine Applications.- Aviation Applications.- Ground Based Augmentation Systems.- Space Applications.- The International GNSS Service.- Part F: Surveying, Geodesy and Geodynamics: .- Orbit and Clock Product Generation.- Surveying.- Geodesy.- Geodynamics.- Part G: GNSS Remote Sensing and Timing: .- Monitoring of the Neutral Atmosphere.- Ionospheric Monitoring.- Reflectometry.- GNSS Time and Frequency Transfer.- Appenidx: .- Data Formats.- GNSS Parameters.


"The book can be used as a textbook and reference book in communication engineering courses at the undergraduate to doctorate levels. ... it provides a huge amount of mathematical details related to GNSS. GNSS-related computer program developers can use it as a good reference book." (Maulik A. Dave, Computing Reviews, April, 2018)