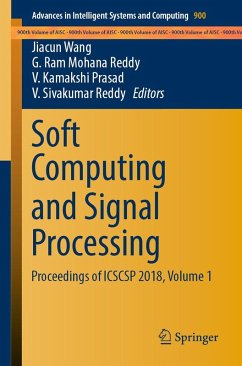 Produktdetails
Advances in Intelligent Systems and Computing 900
Verlag: Springer / Springer, Berlin
Artikelnr. des Verlages: 978-981-13-3599-0
1st ed. 2019
Erscheinungstermin: 17. Januar 2019
Englisch
Abmessung: 233mm x 157mm x 45mm
Gewicht: 1410g
ISBN-13: 9789811335990
ISBN-10: 9811335990
Artikelnr.: 54446990
A new method for the spectral analysis of unevenly sampled time series.- Analysis of Early Detection of Emerging Patterns from Social Media Networks: A Data Mining Techniques Perspective.- Initial Centroids for K-Means using Nearest Neighbors and Feature Means.- Secured Cluster Based Distributed Fault Diagnosis Routing for MANET.- A Comparative Analysis of Unequal Clustering Based Routing Protocol in WSNs.- YouTube Video Ranking By Aspect Based Sentiment Analysis on User Feedback.- Diet Recommendation to Respiratory Disease Patient using Decision Making Approach.