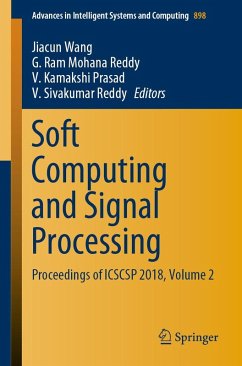 Produktdetails
Advances in Intelligent Systems and Computing 898
Verlag: Springer / Springer, Berlin
Artikelnr. des Verlages: 978-981-13-3392-7
1st ed. 2019
Erscheinungstermin: 14. Februar 2019
Englisch
Abmessung: 235mm x 155mm x 42mm
Gewicht: 1210g
ISBN-13: 9789811333927
ISBN-10: 9811333920
Artikelnr.: 54344886
A Graphical Computational Tool for Computerized Ventricular Extraction in Magnetic Resonance Cardiac Imaging.- Speckle Noise Suppression in Ultrasound Images by Using an Improved Non Local Mean Filter.- Internet of Things: Revealing and Analysis of Security and Mitigating Future Counter Measures.- Agricultural Monitoring and Controlling System Using Wireless Sensor Network.- Using Hierarchies in Online Social Networks to Determine Link Prediction.- Data Analysis, Visualization and Leak Size Modeling for Water Distribution Network.- Context Sensitive Thresholding Technique Using ABC for Aerial Images.- A Study on Convolutional Neural Networks with Active Video Tubelets for Object Detection and Classification.- New Gossiping Protocol for Routing Data in Sensor Networks for Precision Agriculture.- Deep Sentiments Extraction for Consumer Products Using NLP Based Technique.- Spark Streaming For Predictive Business Intelligence.- Comparative Study of AODV and OLSR Routing Protocols.- Adaptive Noise Cancellation Using NLMS Algorithm.- Fruit Detection from Images and Displaying Its Nutrition Value Using Deep Alex Network.- Dynamic Spectrum Allocation and RF Energy Harvesting in Cognitive Radio Network.