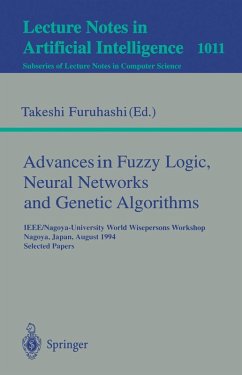 This book presents 14 rigorously reviewed revised papers selected from more than 50 submissions for the 1994 IEEE/ Nagoya-University World Wisepersons Workshop, WWW'94, held in August 1994 in Nagoya, Japan.The combination of approaches based on fuzzy logic, neural networks and genetic algorithms are expected to open a new paradigm of machine learning for the realization of human-like information processing systems. The first six papers in this volume are devoted to the combination of fuzzy logic and neural networks; four papers are on how to combine fuzzy logic and genetic algorithms. Four papers investigate challenging applications of fuzzy systems and of fuzzy-genetic algorithms.
Produktdetails
Lecture Notes in Computer Science Vol.1011
Verlag: Springer, Berlin
1995
Seitenzahl: 240
Erscheinungstermin: 15. November 1995
Englisch
Abmessung: 235mm x 154mm x 13mm
Gewicht: 315g
ISBN-13: 9783540606079
ISBN-10: 3540606076
Artikelnr.: 09240638
Fuzzy associative memory system and its application to multi-modal interface.- Hybrid connectionist fuzzy systems for speech recognition and the use of connectionist production systems.- Fuzzy gaussian potential neural networks using a functional reasoning.- Recurrent fuzzy logic using neural network.- Information aggregating networks based on extended Sugeno's fuzzy integral.- A neuro-fuzzy architecture for high performance classification.- Investigation of stability and robustness of a fuzzy traction control system.- Knowledge-based rules for control of the sake (Ginjoshu) making process and their application in fuzzy control.- A framework for studying the effects of dynamic crossover, mutation, and population sizing in genetic algorithms.- Unsupervised/supervised learning for RBF-fuzzy system.- Genetic algorithms for the development of fuzzy controllers for mobile robots.- A new approach to genetic based machine learning and an efficient finding of fuzzy rules.- A neuro-money recognition using optimized masks by GA.- Genetic-fuzzy systems for financial decision making.