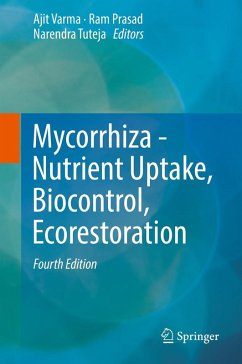 Andere Kunden interessierten sich
auch
für
This is the fourth updated and revised edition of a well-received book that emphasises on fungal diversity, plant productivity and sustainability. It contains new chapters written by leading experts in the field.
This book is an up-to-date overview of current progress in mycorrhiza and association with plant productivity and environmental sustainability. The result is a must hands-on guide, ideally suited for agri-biotechnology, soil biology, fungal biology including mycorrrhiza and stress management, academia and researchers.
The topic of this book is particularly relevant to researchers involved in mycorrhiza, especially to food security, plant microbe interaction and environmental protection.
Mycorrhizas are symbioses between fungi and the roots of higher plants. As more than 90% of all known species of plants have the potential to form mycorrhizal associations, the productivity and species composition and the diversity of natural ecosystems are frequently dependent upon the presence and activity of mycorrhizas. The biotechnological application of mycorrhizas is expected to promote the production of food while maintaining ecologically and economically sustainable production systems.
---
Dieser Download kann aus rechtlichen Gründen nur mit Rechnungsadresse in A, B, BG, CY, CZ, D, DK, EW, E, FIN, F, GB, GR, HR, H, IRL, I, LT, L, LR, M, NL, PL, P, R, S, SLO, SK ausgeliefert werden.
Produktdetails
Verlag: Springer-Verlag GmbH
Erscheinungstermin: 15.01.2018
Englisch
ISBN-13: 9783319688671
Artikelnr.: 53063433
The Mechanisms of Nutrient Uptake by Arbuscular Mycorrhizae.- Dynamics of Arbuscular Mycorrhizal Symbiosis and Its Role in Nutrient Acquisition: An Overview.- Capturing Plant Genetic Potential of Upland Rice for Exploiting Arbuscular Mycorrhizal Responsiveness to Improve Rice Variety for Higher Phosphorus (P) Acquisition Under P Limiting Environments.- Arbuscular Mycorrhizal Fungi and Heavy Metal Tolerance in Plants: An Insight into Physiological and Molecular Mechanisms.- Microbial Socialization Highlights the AMF Effect.- Arbuscular Mycorrhizal Symbiosis and Nutrient Resource Limitation: Predicting the Linkages and Effectiveness of Partnership.- Arbuscular Mycorrhiza Mediated Control of Plant Pathogens.- Mycorrhizal Fungi as Control Agents Against Plant Pathogens.- Management of Fungal Pathogens by Mycorrhiza.- Arbuscular Mycorrhizal Fungi as Biocontrol Agents for Parasitic Nematodes in Plants.- The Impact of AMF Symbiosis in Alleviating Drought Tolerance in Field Crops.- Arbuscular Mycorrhiza: A Tool for Enhancing Crop Production.- Comparative Analysis of Metal Uptake Potential of Hyphal Fusion Progenies of AMF and Their Parents.- Role of Mycorrhiza in Phytoremediation Processes: A Review.- Conventional Methods for Mass Cultivation of AMF.- Biological Hardening of Micropropagated Tomato Plantlets: A Case Study with Piriformaspora indica .- Piriformospora indica ( Serendipita indica ) Enhances Growth and Secondary Metabolites in Cucurma longa .- Effect of Azotobacter chroococcum and Piriformospora indica on Oryza sativa in Presence of Vermicompost.- Principles and Application of Confocal Microscopy to Understand Symbiotic Fungi.- Arbuscular Mycorrhizal Fungi: Green Approach/Technology for Sustainable Agriculture and Environment.- Rhizosphere Mycorrhizae Communities an Input for Organic Agriculture.- Arbuscular Mycorrhizal Fungi: A Potential Tool for Restoration of Degraded Land.- The Role Played by Mycorrhizal Fungi in Ecorestoration.- Transkingdom Signaling Systems Between Plant and its Associated Beneficial Microbes in Relation to Plant Growth and Development.- Mycorrhizae: A Sustainable Industry for Plant and Soil Environment.- An Overview on Orchid Endophytes.