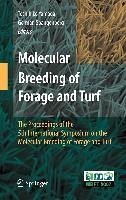 Andere Kunden interessierten sich
auch
für
The Symposium includes keynote presentations from international science leaders in the above fields and offer abstracts in the following topics - breeding and functional genomics for tolerance to biotic stress, - Molecular breeding and functional genomics for tolerance to abiotic stress, - Molecular genetics and modification of flowering and reproductive development, - Genomics of plant-symbiont relations, - Molecular breeding for animal, human and environmental welfare, - Development and Application of molecular technologies in forage and turf improvement, - Bioinformatics-bringing data to a usable form for breeders, - Population and quantitative genetic aspects of molecular breeding, - Gene manipulation, field testing, risk assessment and biosafety, - Intellectual property rights for molecular tools or marker systems.
---
Dieser Download kann aus rechtlichen Gründen nur mit Rechnungsadresse in A, B, BG, CY, CZ, D, DK, EW, E, FIN, F, GR, HR, H, IRL, I, LT, L, LR, M, NL, PL, P, R, S, SLO, SK ausgeliefert werden.
Produktdetails
Verlag: Springer-Verlag GmbH
Seitenzahl: 352
Erscheinungstermin: 10. Juni 2010
Englisch
ISBN-13: 9780387791449
Artikelnr.: 43728949
Molecular Breeding to Improve Forages for Use in Animal and Biofuel Production Systems.- DREB Regulons in Abiotic-Stress-Responsive Gene Expression in Plants.- Comparative Genomics in Legumes.- Development of Trifolium occidentale as a Plant Model System for Perennial Clonal Species.- Characterization and Utilization of Genetic Resources for Improvement and Management of Grassland Species.- Genomic and Geographic Origins of Timothy (Phleum sp.) Based on ITS and Chloroplast Sequences.- Diploid Brachypodium distachyon of Turkey: Molecular and Morphologic Analysis.- Remnant Oak Savanna Acts as Refugium for Meadow Fescue Introduced During Nineteenth Century Human Migrations in the USA.- Development of Microsatellite Markers for Brachiaria brizantha and Germplasm Diversity Characterization of this Tropical Forage Grass.- Functional Genomics of Forage and Bioenergy Quality Traits in the Grasses.- Proanthocyanidin Biosynthesis in Forage Legumes with Especial Reference to the Regulatory Role of R2R3MYB Transcription Factors and Their Analysis in Lotus japonicus.- Molecular Dissection of Proanthocyanidin and Anthocyanin Bosynthesis in White Clover (Trifolium repens).- Transcript Profiling of Cold Responsive Genes in Medicago falcata.- Genetic Diversity and Association Mapping of Three O-Methyltransferase Genes in Maize and Tropical Grasses.- QTL Analysis and Gene Expression Studies in White Clover.- Genome Mapping in Cool-Season Forage Grasses.- Understanding the Genetic Basis of Flowering and Fertility in the Ryegrasses (Lolium spp.).- Improving Selection in Forage, Turf, and Biomass Crops Using Molecular Markers.- Interpretation of SNP Haplotype Complexity in White Clover (Trifolium repens L.), an Outbreeding Allotetraploid Species.- Development of Marker-Assisted Selection for the Improvement of Freezing Tolerance in Alfalfa.- Comparative Analysis of Disease Resistance Between Ryegrass and Cereal Crops.- White Clover Seed Yield: A Case Study in Marker-Assisted Selection.- Molecular Mapping of QTLs Associated with Important Forage Traits in Tall Fescue.- Utilizing Linkage Disequilibrium and Association Mapping to Implement Candidate Gene Based Markers in Perennial Ryegrass Breeding.- Genetic Diversity in Australasian Populations of the Crown Rust Pathogen of Ryegrasses (Puccinia coronata f.sp. lolii).- Fungal Endophytes in Lolium and Festuca Species.- Seed Transmission of Endophytic Fungus, Neotyphodium occultans, in Cross Breeding of Italian Ryegrass (Lolium multiflorum) Using Detached Panicle Culture, and Comparison with Situations in Interspecific/Intergeneric crossings including Festuca species.- Colonial Bentgrass Genetic Linkage Mapping.- Advances and Prospects in the Molecular Breeding of Zoysia.- Transgenesis in Forage Crops.- Evaluating the Role of Habitat Quality on Establishment of GM Agrostis stolonifera Plants in Non-agronomic Settings.
From the reviews:

"Molecular breeding of forage and turf is a collection of papers from plenary lectures and oral presentations at the 5th International Symposium on the Molecular Breeding of Forage and Turf that was held in Sapporo, Japan ... . will find an audience within the forge and turf community, particularly with those who were unable to attend the symposium. Overall, it contains well-written papers from experts in the filed and provides a solid overview of the current research topics in forage and turf molecular breeding." (Stephen Byrne, Annals of Botany, Vol. 104 (1), July, 2009)