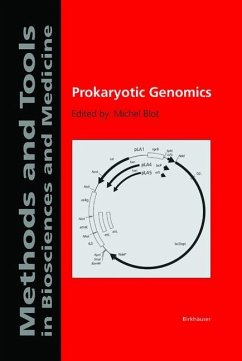 Produktdetails
Methods and Tools in Biosciences and Medicine
2003
Seitenzahl: 224
Erscheinungstermin: 11. Dezember 2002
Englisch
Abmessung: 254mm x 178mm x 18mm
Gewicht: 574g
ISBN-13: 9783764365974
ISBN-10: 3764365978
Artikelnr.: 10964467
1 Physical Analysis of Chromosome Size Variation.- 2 Genetic Mapping in Salmonella enterica.- 3 Insertion Sequences as Genomic Markers.- 4 The Use of Noncoding Microsatellite Length Analysis for Bacterial Strain Typing.- 5 How to Amplify Easily, on the Bacterial Chromosome, a Desired DNA Sequence.- 6 Generalized Transduction.- 7 Use of Conditional-replication, Integration, and Modular CRIM Plasmids to Make Single-copy lacZ Fusions.- 8 Genetic Footprinting for Bacterial Functional Genomics.- 9 Gene Transfer to Plants through Bacterial Vectors.- 10 Quorum Sensing: Approaches to Identify Signals and Signalling Genes in Gram-negative Bacteria.- 11 Transcriptional Profiling in Bacteria Using Microarrays.- 12 Transcriptome Analysis by Macroarrays.- 13 Prokaryotic Proteomics.- 14 Intein-mediated Protein Purification.- 15 Two-hybrid Assay in Escherichia coli K12.- Guide to Protocols.