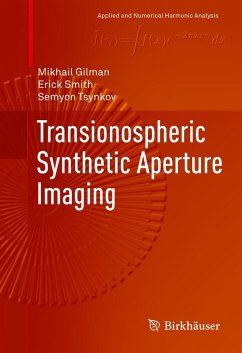 Produktdetails
Applied and Numerical Harmonic Analysis
Artikelnr. des Verlages: 978-3-319-52125-1
1st ed. 2017
Erscheinungstermin: 25. April 2017
Englisch
Abmessung: 241mm x 161mm x 32mm
Gewicht: 887g
ISBN-13: 9783319521251
ISBN-10: 331952125X
Artikelnr.: 47191258
Preface.- Introduction.- Conventional SAR imaging.- SAR imaging through the Earth's ionosphere.- The effect of ionospheric turbulence.- The effect of ionosopheric anisotropy.- The start-stop approximation.- Modeling radar targets beyond the first Born approximation.- Inverse scattering off anisotropic targets.- Discussion and outstanding questions.- List of Figures.- List of Tables.- Bibliography.- Index.
"The book is intended for applied mathematicians interested in SAR or, in general, remote sensing, as well as physicists and electrical/electronic engineers who develope spaceborn SAR sensors and perform the data processing. The theory from this book can also be useful for researchers working on different types of imaging. Moreover, the book is accessible to graduate students in applied mathematics, physics, engineering, and related disciplines." (Agnieszka Lisowska, zbMATH 1375.86001, 2018)

"The monograph is an excellent reference for anyone who is interested in the mathematical theory of transionospheric synthetic aperture imaging. This book is a delightful source of elegant and powerful ideas, packed with mathematical gems and far-reaching applications. It fills a major gap in the literature and will be useful to students and practitioners alike for many years to come. We highly recommend this book." (Alex Mahalov and Austin McDaniel, Mathematical Reviews, Decemeber, 2017)