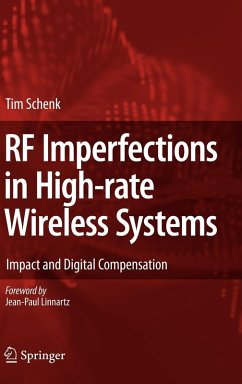 Andere Kunden interessierten sich
auch
für

RF Imperfections in High-rate Wireless Systems therefore presents a new vision on the design of wireless communication systems. In this approach the imperfections of the RF front-ends are accepted and digital signal processing algorithms are designed to suppress their impact on system performance.
To illustrate this approach, the book focuses on multiple-antenna orthogonal frequency division multiplexing (MIMO OFDM), which will be applied as basis for the majority of near-future high-rate wireless systems. The basics of MIMO OFDM are introduced and the typically required signal processing in the implementation of such systems is elucidated. The book treats several of the front-end impairments that seriously affect the performance of MIMO OFDM systems: carrier frequency offset, phase noise, IQ imbalance and nonlinearities. To provide an in-depth understanding of the impact of these RF imperfections, analytical performance results are presented in the book. These results are then used to design different compensation approaches based on digital baseband processing.
RF Imperfections in High-rate Wireless Systems is of interest to wireless system designers, who want to familiarise with the digital compensation of RF imperfections. For researchers in the field of wireless communications this book provides a valuable overview of this emerging research topic.
Produktdetails
Verlag: Springer / Springer Netherlands
Artikelnr. des Verlages: 12023516
Erscheinungstermin: 11. Februar 2008
Englisch
Abmessung: 244mm x 165mm x 29mm
Gewicht: 649g
ISBN-13: 9781402069024
ISBN-10: 1402069022
Artikelnr.: 23161780
Foreword. Preface. 1. INTRODUCTION. 1.1 Wireless communications. 1.2 OFDM. 1.3 MIMO . 1.4 RF transceiver impairments. 1.5 Outline of the book. 2. MULTIPLE-ANTENNA OFDM SYSTEMS. 2.1 Introduction. 2.2 Channel modelling. 2.3 System modelling. 2.4 Conclusions . 3. DESIGN AND IMPLEMENTATION OF A MIMO OFDM SYSTEM. 3.1 Introduction. 3.2 Transmission format and preamble design. 3.3 Frequency synchronisation. 3.4 Channel estimation. 3.5 Timing synchronisation. 3.6 Multiple-antenna OFDM system implementation. 3.7 Conclusions. 4. PHASE NOISE. 4.1 Introduction. 4.2 System and phase noise modelling. 4.3 Impact and distribution of the ICI term. 4.4 ICI-caused error term in MIMO OFDM. 4.5 Compensation of the CPE. 4.6 Compensation of the ICI. 4.7 Conclusions. 5. IQ IMBALANCE. 5.1 Introduction. 5.2 System and IQ imbalance modelling. 5.3 Impact of IQ imbalance on system performance. 5.4 Preamble based estimation and mitigation. 5.5 Decision-directed based mitigation. 5.6 Conclusions. 6. NONLINEARITIES. 6.1 Introduction. 6.2 System and nonlinearities modelling. 6.3 Impact of nonlinearities on system performance. 6.4 PAPR reduction by spatial shifting. 6.5 RX-based correction of nonlinearities. 6.6 Conclusions. 7. A GENERALISED ERROR MODEL. 7.1 Introduction. 7.2 Error model. 7.3 Performance evaluation. 7.4 Numerical results. 7.5 Conclusions. 8. DISCUSSION AND CONCLUSIONS. 8.1 Summary and conclusions. 8.2 Scope of future research. Glossary. Appendices. A MSE in CFO estimation. B MSE in channel estimation. C Measurement setup. D Proof of Theorem 4.1. E Orthonormal polynomial basis. References. Index.