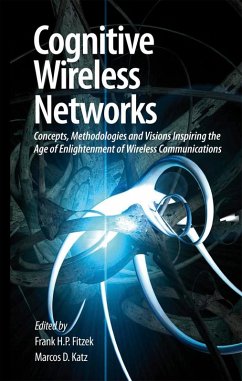 Andere Kunden interessierten sich
auch
für

As wireless networks become pervasive, highly populated and increasingly complex, the essential preconditions for exploiting rich interactions among mobile devices are better fulfilled. Today, these trends are giving rise to new communications paradigms making use of cooperation and cognition as the main underlying principles. Cognition, together with its complementary principle cooperation, confer to the wireless networks some degree of consciousness or understanding about their own existence, such as internal structure, capabilities, relationships to the outside world, limitations, current use of radio resources and many more. Current wireless networks are aware of their surrounding environment to a very limited extent, but in future wireless networks this capability will be highly developed, as a consequence of exploiting jointly cooperative and cognitive principles. Especially for cooperative wireless networks, where the communication scenario is highly dynamic, the mobile devices need to adapt their capabilities in a flexible manner, taking advantage of cognitive principles. This book advocates the idea of breaking up the cellular communication architecture by introducing cooperative strategies among wireless devices through cognitive wireless networking. It details the cooperative and cognitive aspects for future wireless communication networks. Coverage includes social and biological inspired behavior applied to wireless networks, peer-to-peer networking, cooperative networks, and spectrum sensing and management.
Produktdetails
Verlag: Springer Netherlands
Artikelnr. des Verlages: 11980926
Erscheinungstermin: 7. September 2007
Englisch
Abmessung: 241mm x 160mm x 44mm
Gewicht: 1360g
ISBN-13: 9781402059780
ISBN-10: 1402059787
Artikelnr.: 22957679
What is Cognitive Radio and Cognitive Networks? B.Walke. Part I: Introductory Chapter. 1. Cooperative and Cognitive Networks; M.D.Katz, F.H.P.Fitzek. 2. Cellular Controlled Peer to Peer Communications; F.H.P.Fitzek, M.Katz. Part II: Cooperative Networks: Social, Operational and Communicational Aspects. 3. Applying Evolutionary Approaches for Cooperation; D.Hales. 4. The Social Qualities of Pervasive Wireless Networks; M.Pesce. 5. Encouraging Cooperative Interaction among Network Entities; S.Buchegger, J.Chuang. 6. Competition and Cooperation in Wireless Multi-Access Networks; J.Hultell, J.Zander, J.Markendahl. 7. A Cooperative ID for 4G; S.Frattasi, H.Fathi. 8. Implementing Cooperative Wireless Networks; S.Valentin et al. 9. Scalable Cooperation in Multi-Terminal Half-Duplex Relay Networks; P.Rost, G.Fettweis. 10. Trigger Management and Mobile Node Cooperation; J.Mäkelä et al. 11. Cooperative Mobile Positioning in 4G Wireless Networks; S.Frattasi, M.Monti. 12 Peer-to-Peer Information Retrieval Based on Fields of Interest; B.Forstner et al. Part III: Cognitive Networks. 13. Introducing Cognitive Systems to the B3G Wireless World; P.Demestichas et al. 14. Architectures and Protocols for Next Generation Cognitive Networking; B.S.Manoj, R.R.Rao, M.Zorzi. 15. Scheduling in Cognitive Networks; C.Raman et al. 16. Design of Terminals and Infrastructure Components for Cognitive Wireless Networks; A.Viessmann et al. 17. Fundamental Limits of Cognitive Radio Networks; N.Devroye, V.Tarokh. 18. Spectrum Awareness; M.Höyhtyä et al. 19. Robust Spectrum Sensing Techniques for Cognitive Radio Networks; D.Cabric, R.Brodersen. Part IV: Marrying Cooperation and Cognition in Wireless Networks. 20.Cognitive Resource Manager; M.Petrova, P.Mähönen. 21. The C-Cube Concept; T.Arildsen, F.H.P.Fitzek. 22. Cellular Controlled P2P Communication Using Software Defined Radio; J.M.Kristensen, F.H.P.Fitzek. 23. A Cooperative Scheme Enabling Spatial Reuse in Wireless Networks; C.Lu, F.H.P.Fitzek, P.C.F.Eggers. 24. On the Energy Saving Potential in DVB-H Networks Exploiting Cooperation among Mobile Devices; Q.Zhang, F.H.P.Fitzek, M.Katz. 25. Cooperative Retransmission for Reliable Wireless Multicast Services; Q.Zhang, F.H.P.Fitzek. 26. IP Header Compression for Cellular-Controlled P2P Networks; T.K.Madsen, Q.Zhang, F.H.P.Fitzek. 27. Cluster Based Cooperative Uplink Access in Centralized Wireless Networks; Q.Zhang, F.H.P.Fitzek, V.B.Iversen. Part V: Methodologies and Tools. 28. Cooperation of Cognitive Networks; C.Comaniciu. 29. Spectrum Sharing Games of Network Operators and Cognitive Radios; M.H.Manshaei et al. 30. Introduction to NetLogo; F.Albiero, F.H.P.Fitzek, M.Katz. 31. Analysis of Cooperative Power Saving Strategies with NetLogo; F.Albiero, F.H.P. Fitzek, M.Katz. Part VI: Visions, Prospects and Emerging Technologies. 32. Cooperation in Optical Wireless Communications; D.O'Brien. 33. Evolution of Digital Radios; F.K.Jondral, V.Blaschke. 34. CogMesh; T.Chen, et al. 35. Coordinating User and Device Behavior in Wireless Grids; L.W.McKnight, W.Lehr, J.Howison. Index.