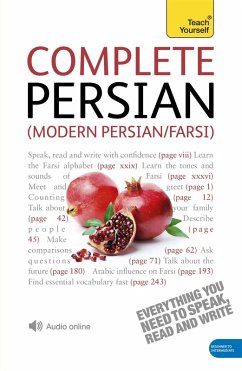 Andere Kunden interessierten sich
auch
für


Fully updated with added learning features to make your language learning experience fun and interactive, you can rely on the benefits of a top language teacher and our years of teaching experience.

The course is structured in thematic units and the emphasis is placed on communication, so that you effortlessly progress from introducing yourself and dealing with everyday situations, to using the phone and talking about work.

By the end of this course, you will approach B2 of the Common European Framework of Reference (CEFR) for languages: Can interact with fluency and spontaneity and produce clear, detailed text on a wide range of subjects and to explain a viewpoint.

Learn effortlessly with an easy-to-read page design and complete online audio support:

NOT GOT MUCH TIME?
One-, five- and ten-minute introductions to key principles to get you started.

AUTHOR INSIGHTS
Lots of instant help with common problems and quick tips for success, based on the author's many years of experience.

GRAMMAR TIPS
Easy-to-follow building blocks to give you a clear understanding.

USEFUL VOCABULARY
Easy to find and learn, to build a solid foundation for speaking.

DIALOGUES
Read and listen to everyday dialogues to help you speak and understand fast.

PRONUNCIATION
Don't sound like a tourist! Perfect your pronunciation before you go.

TEST YOURSELF
Tests in the book to keep track of your progress.

TRY THIS
Reinforce your learning with innovative exercises that show you what you've learnt and how to use it.

Access the audio for this course for free by downloading it to the Teach Yourself Library app or streaming it on library.teachyourself.com

Rely on Teach Yourself, trusted by language learners for over 80 years.
Produktdetails
Teach Yourself
Verlag: Hodder Education
Seitenzahl: 336
Erscheinungstermin: 11. Oktober 2010
Englisch, Persisch
Abmessung: 22mm x 130mm x 199mm
Gewicht: 270g
ISBN-13: 9781444102307
ISBN-10: 1444102303
Artikelnr.: 28345046
: Introduction - the Persian alphabet: Introduction - the Persian alphabet
: Introduction - the Persian alphabet
: Talking about yourself
: Talking about yourself
: Talking about yourself
: Socialising
: Socialising
: Socialising
: Family relationships
: Family relationships
: Family relationships
: Sightseeing
: Sightseeing
: Sightseeing
: Travel, accommodation
: Travel, accommodation
: Travel, accommodation
: Shopping
: Shopping
: Shopping
: Going out, making plans
: Going out, making plans
: Going out, making plans
: Talking on the phone
: Talking on the phone
: Talking on the phone
: Money matters
: Money matters
: Money matters
: Health
: Health
: Health
: Letters: formal and informal
: Letters: formal and informal
: Letters: formal and informal
: Cultural activities
: Cultural activities
: Cultural activities
: Sport and leisure
: Sport and leisure
: Sport and leisure
: Help!
: Help!
: Help!
: Review
: Review
: Review
: Key to exercises
: Key to exercises
: Key to exercises: Glossary of grammatical terms
: Glossary of grammatical terms
: Glossary of grammatical terms
: Grammar summary
: Grammar summary
: Grammar summary
: Table of irregular verbs and present stems
: Table of irregular verbs and present stems
: Table of irregular verbs and present stems
: Vocabularies
: Vocabularies
: Vocabularies
: Taking it further
: Taking it further
: Taking it further
: Index
: Index
: Index