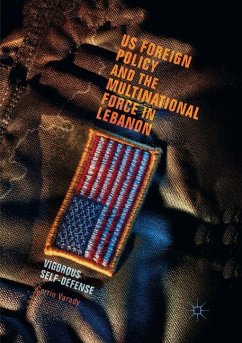 Produktdetails
Artikelnr. des Verlages: .978-3-319-85289-8
Softcover reprint of the original 1st ed. 2017
Seitenzahl: 288
Erscheinungstermin: 2. August 2018
Englisch
Abmessung: 210mm x 148mm x 15mm
Gewicht: 379g
ISBN-13: 9783319852898
ISBN-10: 3319852892
Artikelnr.: 53575274
1. Introduction.- 2. Lebanon: A Crowded State without a Nation.- 3. Discontinuity and Legacy: US Policy in Lebanon and the Middle East.- 4. Operation Peace for Galilee and the Establishment of the MNFI.- 5. Return of the Marines and the Multinational Force II.- 6. The Soviet-Syrian Alliance and the Battle of Souk El Gharb.- 7. The Marine Barracks Bombing and a 'Vigorous Self Defense'.- 8. Leaving through the Back Door: The Final Days of the US Intervention in Lebanon.- 9. Conclusion: Lessons for the future: the use of force in a peacemaking intervention.