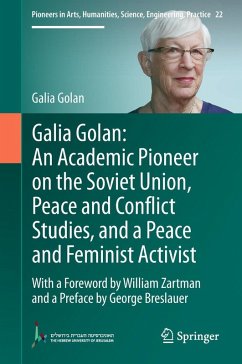 Produktdetails
Pioneers in Arts, Humanities, Science, Engineering, Practice .22
Artikelnr. des Verlages: 978-3-319-95212-3
1st ed. 2019
Erscheinungstermin: 7. November 2018
Englisch
Abmessung: 241mm x 158mm x 25mm
Gewicht: 574g
ISBN-13: 9783319952123
ISBN-10: 3319952129
Artikelnr.: 52787882
1 Part I. On Galia Golan.- Chapter 1. Auto-biographical Note.- Chapter 2. Bibliography.- Part II. Selected Texts of Galia Golan.- Chapter 3. Introduction to Texts.- Chapter 4. The Soviet Union, Détente and the War (2013).- Chapter 5. The Soviet Union and the Cold War in the Middle East (2007).- Chapter 6. The Soviet Union and Third World National Liberation Movements: The Soviet Role (1987).- Chapter 7. The Soviet Union and the Palestine Liberation Organization (1983).- Chapter 8. Factors for De-escalation: Israel and a Shift to Constructive Conflict (2017).- Chapter 9. The Role of Trust in Israeli Peace Negotiations ( 2017).- Chapter 10. Bridging the Abyss: Palestinian-Israeli Dialogue (1999).- Chapter 11. Militarization and Gender in Israel (2015).- Chapter 12. Asymmetry in Cross-Conflict Collaboration: Is There a Gender Factor? (2011).- Book backmatter.