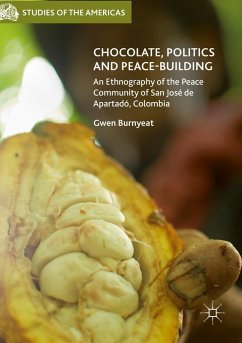 Andere Kunden interessierten sich
auch
für
Produktdetails
Studies of the Americas
Artikelnr. des Verlages: 978-3-319-84661-3
1st ed. 2018
Seitenzahl: 292
Erscheinungstermin: 22. März 2019
Englisch
Abmessung: 216mm x 149mm x 20mm
Gewicht: 388g
ISBN-13: 9783319846613
ISBN-10: 3319846612
Artikelnr.: 54817402
1. Introduction: The Chocolate-Politics Continuum
Part I: Origins
2. The Roots: Of Cooperatives and Conflict
3. The Founding of the Peace Community
4. The Cultural Change of 'Organisation'
Part II: The Radical Narrative
5. The Genealogy of the Rupture 1997-2005
6. Differentiating between Santos and Uribe
Part III: The Organic Narrative
7. Practices of Production
8. The Elements of the Organic Narrative
9. Conclusion: An 'Alternative Community' as Positive Peace-Building?