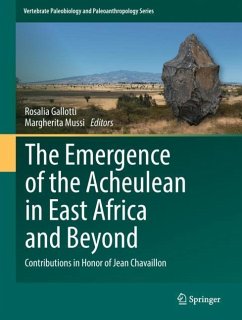 Andere Kunden interessierten sich
auch
für

The book is addressed to the scientific community, and will be of interest to researchers, graduate students, archaeologists, paleontologists, and paleoanthropologists.
This volume is dedicated to the memory of Jean Chavaillon (March 25, 1925 - December 21, 2013), the leading archaeologist and Quaternary geologist who researched with unfailing enthusiasm the earliest human cultures and directed from 1965 to 1995 the French Archaeological Mission at Melka Kunture.

Produktdetails
Vertebrate Paleobiology and Paleoanthropology
Verlag: Springer / Springer, Berlin
Artikelnr. des Verlages: 978-3-319-75983-8
1st ed. 2018
Seitenzahl: 260
Erscheinungstermin: 3. September 2018
Englisch
Abmessung: 285mm x 215mm x 20mm
Gewicht: 878g
ISBN-13: 9783319759838
ISBN-10: 3319759833
Artikelnr.: 50708395
Chapter 1-The emergence of the Acheulean in East Africa: historical perspectives and current issues. Chapter 2-Before the Acheulean in East Africa: an overview of the Oldowan lithic assemblages. Chapter 3-Technological assets for the emergence of the Acheulean? Reflections on the Kokiselei 4 lithic assemblage and its place in the archaeological context of West Turkana, Kenya. Chapter 4-Before, during, and after the early Acheulean at Melka Kunture (Upper Awash, Ethiopia): A techno-economic comparative analysis. Chapter 5-Variability in the mountain environment at Melka Kunture archaeological site, Ethiopia, during the Early Pleistocene (~ 1.7 Ma) and the Mid-Pleistocene transition (0.9-0.6Ma). Chapter 6-The early Acheulean ~1.6-1.5 Ma from Gona, Ethiopia: Issues on the emergence of the Acheulean in Africa. Chapter 7-The East African early Acheulean of Peninj (Lake Natron, Tanzania). Chapter 8-Bifacial shaping at the TK Acheulean site (Bed II, Olduvai Gorge, Tanzania): New excavations 50 years after. Chapter 9-Faunal Change in Eastern Africa at the Oldowan - Acheulean Transition. Chapter 10-The Acheulean assemblages of Asia: a review. Chapter 11-From 800 to 500 ka in Europe: The oldest evidence of Acheuleans in their technological, chronological and geographical framework.