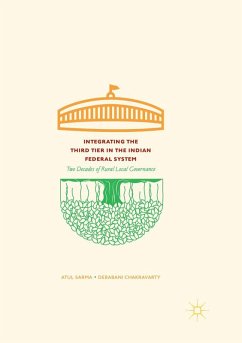 Andere Kunden interessierten sich
auch
für


This pioneering book also discusses the treatment of the third-tier government in the inter-governmental fiscal transfer framework and the delineation of the unique institution of local self-government in the Northeastern Indian States.

In the light of the loosely evolved fiscal relations between three levels of government, it has been observed that local self-governments in the bottom tier have not been truly empowered yet. The book argues in favor of integrating the third-tier government into the Indian federal system and suggests how this could be achieved.
Produktdetails
Artikelnr. des Verlages: 978-981-13-5446-5
Softcover reprint of the original 1st ed. 2018
Seitenzahl: 188
Erscheinungstermin: 23. Dezember 2018
Englisch
Abmessung: 210mm x 148mm x 10mm
Gewicht: 252g
ISBN-13: 9789811354465
ISBN-10: 9811354464
Artikelnr.: 54773063
Acknowledgments.- Abbreviations.- Chapter 1 Introduction.- Chapter 2 Economics of Decentralization.- Chapter 3 Evolution of Panchayati Raj in India.- Chapter 4 Unique Institution of Local Self Government in the Northeast.- Chapter 5 Design of the Panchayati Raj.- Chapter 6 Two Decades of Panchayati Raj.- Chapter 7 Third-tier Government in Inter-governmental Fiscal Transfer Framework.- Chapter 8 Towards Integrating Third-tier in Indian Federal System.
---
"A very significant contribution of this book lies in its analysis of the positioning of the local self-government institutions in the inter-government fiscal transfer framework, particularly in context of those constitutional provisions, which fall short of fiscal federalism. It provides a detailed analysis of the observations and recommendations of the NFC since the enactment of the 73rd and 74th amendment acts ... ." (Ashok Pankaj, Economic & Political Weekly, Vol. 53 (34), August, 2018)