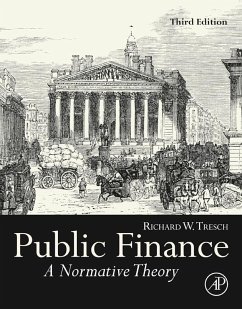 Geräte: eReader

mit Kopierschutz

Größe: 12.82MB
Andere Kunden interessierten sich
auch
für
Public Finance
remains the premier textbook on the normative theory of government policy, with the third edition propelling into the twenty-first century its examination of what government ought to be doing instead of what it is doing.
The welfare aspects of public economics receive extensively renewed examination in this third edition. With four new chapters and other significant revisions, it presents detailed and comprehensive coverage of theoretical literature, empirical work, environmental issues, social insurance, behavioral economics, and international tax issues. With increased emphasis on the European Union, it is rigid enough for use by PhDs while being accessible to students less well trained in math.
Moves skillfully from explaining normative theory to applying it in mathematically compact and precise terms
Adds new chapters on social insurance, medical care, social security pensions, behavioral public economics, and international public finance
Includes new pedagogical supplements, including end-of-chapter questions and answers
Emphasizes European examples
---
Dieser Download kann aus rechtlichen Gründen nur mit Rechnungsadresse in A, B, BG, CY, CZ, D, DK, EW, E, FIN, F, GR, HR, H, IRL, I, LT, L, LR, M, NL, PL, P, R, S, SLO, SK ausgeliefert werden.
"Richard Tresch's graduate textbook, Public Finance, A Normative Theory, has become the standard reference for graduate courses in public economics. He has now updated the textbook, with the same clear, informative, and illuminating writing, while maintaining the high level of rigor of the previous editions. The revised textbook contains many new and useful insights. I look forward to my continued use of his textbook in my own graduate classes." --James Alm, Tulane University

"Richard Tresch provides a wonderful graduate textbook that is difficult to top in terms of clarity and accessibility. It combines neat mathematical presentation with lots of intuition." --Alfons Weichenrieder, Goethe University Frankfurt

"The ideal graduate treatment of public economic theory. Tresch introduces a general equilibrium model and uses it to solve the classic problems. He then devotes the majority of the book to theoretically examining problems in the second best context, which is the training that students really need to apply theory to real world policy questions." --Stephen Ross, University of Connecticut