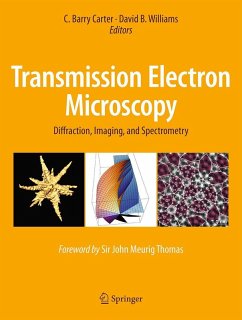 Andere Kunden interessierten sich
auch
für


Topics covered include sources, in-situ experiments, electron diffraction, Digital Micrograph, waves and holography, focal-series reconstruction and direct methods, STEM and tomography, energy-filtered TEM (EFTEM) imaging, and spectrum imaging. The range and depth of material makes this companion volume essential reading for the budding microscopist and a key reference for practicing researchers using these and related techniques.


Produktdetails
Verlag: Springer / Springer, Berlin
Artikelnr. des Verlages: 978-3-319-26649-7
1st ed. 2016
Erscheinungstermin: 26. September 2016
Englisch
Abmessung: 287mm x 217mm x 30mm
Gewicht: 1872g
ISBN-13: 9783319266497
ISBN-10: 3319266497
Artikelnr.: 43903781
Foreword by Sir John Meurig Thomas.- 1. Electron Sources.- 2. In Situ and Operando.- 3. Electron Diffraction and Phase Identification.- 4. Convergent-Beam Diffraction: Symmetry and Large-Angle Patterns.- 5. Electron crystallography, charge-density mapping and nanodiffraction.- 6. Digital Micrograph.- 7. Electron waves, interference & coherence.- 8. Electron Holography.- 9. Focal-Series Reconstruction.- 10. Direct Methods For Image Interpretation.- 11. Imaging in the STEM.- 12. Electron Tomography.- 13. Energy-Filtered Transmission Electron Microscopy.- 14. Calculation of Electron Energy-Loss Spectra.- 15. Electron Diffraction & X-Ray Excitation.- 16. X-Ray and Electron Energy-Loss Spectral Imaging.- 17. Practical Aspects and Advanced Applications of XEDS.
"I would highly recommend this 'companion' volume for researchers and students of the materials and applied sciences; in fact, anybody using transmission electron microscopy in their research will extract many practical ideas ... . Because of the high quality of the photographic images, composite illustrations, and text presentations, I suggest that this book has a place on the shelf of any electron microscopy laboratory. ... The editors have put together a wonderful review volume that is well worth the read." (David C. Bell, Microscopy and Microanalysis, Vol. 24 (03), June, 2018)

"Transmission Electron Microscopy, a Textbook for Materials Science, first published in 1996 with a second edition in 2009, is a comprehensive book on the subject, with a quite original approach. ... The book was carefully designed for teaching purposes and its phenomenal success shows that this was time well spent." (Peter Hawkes, Journal of Materials Science, Vol. 52, 2017)