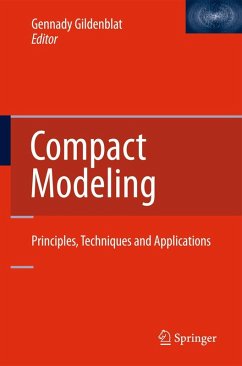 Andere Kunden interessierten sich
auch
für
Produktdetails
Verlag: Springer / Springer Netherlands
Artikelnr. des Verlages: 978-94-007-9324-8
2010
Seitenzahl: 548
Erscheinungstermin: 30. September 2014
Englisch
Abmessung: 235mm x 155mm x 29mm
Gewicht: 831g
ISBN-13: 9789400793248
ISBN-10: 9400793243
Artikelnr.: 41630211
Preface.
Part I. Compact Models of MOS Transistors. 1. Surface-Ppotential-Based Compact Model of Bulk MOSFET. 2. PSP-SOI: A Surface-Potential-Based Compact Model of SOI MOSFETs. 3. Benchmark Tests for MOSFET Compact Models . 4. High-Voltage MOSFET Modeling. 5. Physics of Noise Performance of Nanoscale Bulk MOS Transistors.
Part II Compact Models of Bipolar Junction Transistors. 6. Introduction to Bipolar Transistor Modeling. 7. Mextram. 8. The HiCuM Bipolar Transistor Model.
Part III. Compact Models of Passive Devices. 9. Integrated Resistor Modeling. 10. The JUNCAP2 Model for Junction Diodes. 11. Surface-Potential-Based MOS Varactor Model. 12. Modeling of On-chip RF Passive Components.
Part IV. Modeling of Multiple Gate MOSFETs. 13. Multi-Gate MOSFET Compact Model BSIM-MG. 14. Compact Modeling of Double-Gate and Nanowire MOSFETs.
Part V. Statistical Modeling. 15. Modeling of MOS Matching. 16. Statistical Modeling Using Backward Propagation of Variance (BPV).
Index.
From the reviews:
"This excellent reference covers a niche in the recent development of compact modeling for integrated circuit systems. The book can serve as a guide to current research based on the down-scaling of semiconductor devices, particularly for device physicists, electrical engineers and applied mathematicians. The reader will benefit in particular from the coverage of statistical modeling, which treats stochastic system variability and other random effects ... . Each chapter is well documented with references, and the underlying theory for each device class is well demonstrated." (Axel Mainzer Koenig, Optics & Photonics News, May, 2011)