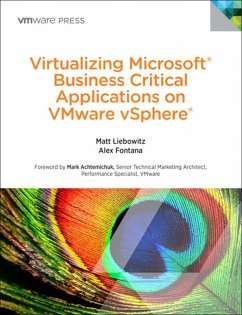 Geräte: eReader

mit Kopierschutz

Größe: 29.22MB
By virtualizing Microsoft's enterprise applications on vSphere, you can drive down costs while migrating toward flexible, low-cost private cloud architectures. This unique guidebook bridges the gap between the Microsoft and VMware worlds, bringing together the deep knowledge, cutting-edge best practices, and practical techniques you need to succeed.
Leading experts Matt Liebowitz and Alex Fontana present end-to-end coverage of virtualizing Windows Server 2012 AD domain controllers and failover clusters, Exchange Server 2013, SQL Server 2012, and SharePoint Server 2013. They offer indispensable advice on sizing, architecture, performance, availability, monitoring, and metrics.
Throughout, the authors share valuable tips, tricks, and insights from their own experiences. For each Microsoft application, they provide "proof of concept" sample configurations and clearly explain how new features impact virtualization. You'll also find authoritative, up-to-date guidance on licensing and other issues related to ensuring full support from both Microsoft and VMware.
Coverage includes
. Evaluating the benefits, risks, and challenges of virtualizing Microsoft business critical applications
. Identifying strategies for success associated with people, processes, and technology
. Reviewing VMware vSphere features most important to virtualizing business-critical applications
. Taking advantage of new virtualization-aware features built in to Windows Server 2012 domain controllers
. Designing and configuring vSphere High Availability (vSphere HA) clusters to run Windows enterprise applications
. Reflecting Exchange Server 2013's new architecture to maximize its performance in virtualized environments
. Leveraging new SQL Server 2012 features to simplify the delivery of high availability on virtual servers
. Reducing SQL Server 2012 licensing costs through virtualization
. Planning, designing, and deploying virtualized SharePoint Server 2013 environments
---
Dieser Download kann aus rechtlichen Gründen nur mit Rechnungsadresse in A, B, BG, CY, CZ, D, DK, EW, E, FIN, F, GR, HR, H, IRL, I, LT, L, LR, M, NL, PL, P, R, S, SLO, SK ausgeliefert werden.