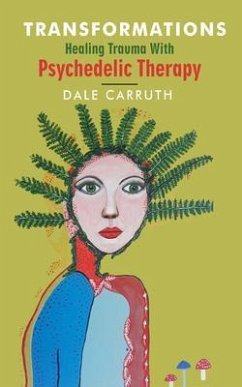 Geräte: eReader

mit Kopierschutz

Größe: 2.37MB
Andere Kunden interessierten sich
auch
für
MDMA, PSILOCYBIN, AYAHUASCA: what compelled twenty-two middle-class Australian people to share their unique and riveting stories about their participation in forty illegal psychedelic therapy sessions? How did this therapy transform them? How does one even find a an underground therapist?
Transformations;
is a must-read for anyone suffering from trauma or other psychological difficulties and is contemplating a psychedelic solution. It's also a rare font of knowledge for future psychedelic therapists, providing tried-and-tested treatment protocols and proceedures. Psychedelic research has made a meteoric comeback and projects testing the potential for psychedelics to treat mental illness are taking place worldwide. Dale Carruth has emerged from the underground to reveal research she's been quietly conducting for years. She flew to Australia in 2017 to take part in illegal psychedelic therapy in the hope of healing her debilitating PTSD symptoms. After profound and effective healing, Carruth, a qualified therapist, felt obliged to help others do the same.
'I have come to know and appreciate Dale as a respectful, careful, and highly ethical therapist. Her practical experience in this not-yet-well-known field of work, especially trauma work with psychoactive substances, is impressive and testifies to a great knowledge of this field. Her previous clinical experience, especially with traumatized people, and the intensive working through of her own biography allows her to excellently grasp and accompany the essence of people with post-traumatic stress disorder. Her expertise in the field of psychoactive substances is impressively vast. Her book is carefully researched, clearly written and easy to understand.' ____Dr Friederike Meckel Fischer, author of Therapy with Substance"I believe this book can help guide therapists to carry out this most important work in helping to heal the millions who suffer daily from the crippling effects of trauma. This unique contribution can also help people seeking psychedelic therapy to understand what they are in for and help them to prepare for and understand the processes involved in going through these most profound and effective treatments. These records are definately more relevant to regular people than the much-vaunted scientific studies into these compounds, as any reader should be able to see clearly how these compounds work, how people experience them, and what results they themselves could actually get from them." ___ Julian Palmer, author of Articulations: On the Utilisation and Meaning of Psychedelics
---
Dieser Download kann aus rechtlichen Gründen nur mit Rechnungsadresse in A, D ausgeliefert werden.