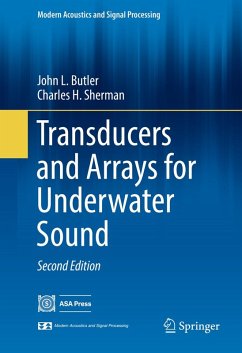 Andere Kunden interessierten sich
auch
für
---
Dieser Download kann aus rechtlichen Gründen nur mit Rechnungsadresse in A, B, BG, CY, CZ, D, DK, EW, E, FIN, F, GR, HR, H, IRL, I, LT, L, LR, M, NL, PL, P, R, S, SLO, SK ausgeliefert werden.
Produktdetails
Verlag: Springer-Verlag GmbH
Seitenzahl: 716
Erscheinungstermin: 1. September 2016
Englisch
ISBN-13: 9783319390444
Artikelnr.: 46923422
Chapter 1: Introduction. 1.1 Brief History of Underwater Sound Transducers. 1.2 Underwater Transducer Applications. 1.3 General Description of Linear Electroacoustic Transduction. 1.4 Transducer Characteristics. 1.5 Transducer Arrays.- Chapter 2: Electroacoustic Transduction. 2.1 Piezoelectric Transducers. 2.2 Electroconstrictive Transducers. 2.3 Magnetostrictive Transducers. 2.4 Electrostatic Transducers. 2.5 Variable Reluctance Transducers. 2.6 Moving Coil Transducers. 2.7 Comparison of Transducer Mechanisms. 2.8 Equivalent Circuits. 2.9 Thermal Considerations. 2.10 Extended Equivalent Circuits.- Chapter 3: Transducer Models. 3.1 Lumped Parameter Models and Equivalent Circuits. 3.2 Distributed Models. 3.3 Matrix Models. 3.4 Finite Element Models.- Chapter 4: Transducer Characteristics. 4.1 Resonance Frequency. 4.2 The Mechanical Quality Factor. 4.3 Characteristic Mechanical Impedance. 4.4 Electromechanical Coupling Coefficient. 4.5 Parameter Based Figure of Merit (FOM).- Chapter 5: Transducers as Projectors. 5.1 Principles of Operation. 5.2 Ring and Spherical Transducers. 5.3 Piston Transducers. 5.4 Transmission Line Transducers. 5.5 Flextensional Transducers. 5.6 Flexural Transducers. 5.7 Modal Transducers. 5.8 Low Profile Transducers.- Chapter 6: Transducers as Hydrophones. 6.1 Principles of Operation. 6.2 Cylindrical and Spherical Hydrophones. 6.3 Planar Hydrophones. 6.4 Bender Hydrophones. 6.5 Vector Hydrophones. 6.6 Plane Wave Diffraction Constant. 6.7 Hydrophone Thermal Noise.- Chapter 7: Projector Arrays. 7.1 Array Directivity Functions. 7.2 Mutual Radiation Impedance and the Array Equations. 7.3 Calculation of Mutual Radiation Impedance. 7.4 Arrays of Non-FVD Transducers. 7.5 Volume Arrays. 7.6 Near Field of Projector Array. 7.7 The Nonlinear Parametric Array.Doubly Steered Arrays.- Chapter 8: Hydrophone Arrays. 8.1 Hydrophone Array Directional Response. 8.2 Array Gain. 8.3 Sources and Properties of Noise in Arrays. 8.4 Reduction of Array Noise. 8.5 Arrays of Vector Sensors. 8.6 Steered Planar Circular Arrays. 8.7 Array Absorption and Transparency.- Chapter 9: Transducer Evaluation and Measurement. 9.1 Electrical Measurement of Transducers in Air. 9.2 Measurement of Transducers in Water. 9.3 Measurement of Transducer Efficiency. 9.4 Acoustic Responses of Transducers. 9.5 Reciprocity Calibration. 9.6 Tuned Responses. 9.7 Near-Field Measurements. 9.8 Calibrated reference Transducers.- Chapter 10: Acoustic Radiation from Transducers. 10.1 The Acoustic Radiation Problem. 10.2 Far Field Acoustic Radiation 10.3 Near-Field Acoustic Radiation. 10.4 Radiation Impedance. 10.5 Dipole Coupling to a Parasitic Monopole.- Chapter 11: Mathematical Models for Acoustic Radiation. 11.1 Mutual Radiation Impedance. 11.2 Green's Theorem and Acoustic Reciprocity. 11.3 Scattering and the Diffraction Constant. 11.4 Numerical Models for Acoustic Calculations.- Chapter 12: Nonlinear Mechanisms and Their Effects. 12.1 Nonlinear Mechanisms in Lumped Parameter Transducers. 12.2 Analysis of Nonlinear Effects. 12.3 Nonlinear Analysis of Distributed-Parameter Transducers. 12.4 Nonlinear Effects on the Electromechanical Coupling Coefficient.- Appendix.- Glossary of Terms.- Solutions for Odd-Numbered Exercises.-Index.