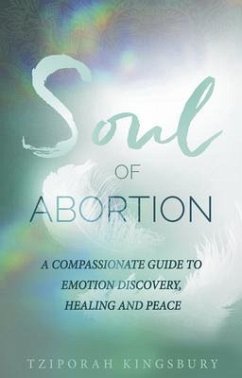 Andere Kunden interessierten sich
auch
für
This book is a blueprint to help us create new structures and ways to support the emotional and psychological impacts of abortion for women, their partners, and their communities as a whole. It is a compassionate invitation to talk about something that is often shoved in the closet, and carries with it so much shame and persecution, leaving many women feeling alone, disconnected, and not knowing where to turn.
The Soul of Abortion
carries a vision for women to come home to the fullness of their body, sex and spirit after having an abortion. It provides us with the skills and tools to make that vision come true. It also provides new structures, ideas and tools for loved ones, partners and community as a whole to have the ability to be present and available in a loving, compassionate way to receive women back into life through the mourning and grief cycles.
ABOUT THE AUTHOR:
Tziporah Kingsbury is a Somatic Intimacy Mentor, Relationship Educator, and Breathwork Trainer. She has traveled the globe, helping adults move beyond the fear of vulnerability and asking for what they need to develop inner peace, self-understanding, confidence, and emotional intimacy.
Tziporah has helped thousands discover new paths of fulfillment and honor the grief cycles of life as part of intimacy development. Her work has allowed many to embrace their uniqueness while developing a safe inner dialogue to learn, listen, and evolve at one's own pace.
www.MatrikaPress.com/tziporah-kingsbury
What People are Saying About The Soul of Abortion:
"The Soul of Abortion takes the deep and powerful process of choosing reproductive agency out of the political and into the heart. It's the book we have been waiting for! This book supports people who have had abortions to take space, get the support they need and to consciously grieve the loss they may feel. It's a compassionate look at abortion, supported by concrete tools to help readers move through the challenging process of choosing not to move forward with a pregnancy. Putting the compassion and soul into the very difficult choice to have an abortion is the human response we all need, regardless of our point of view."
-Amy Jo Goddard,
Sexuality Educator and author of Woman On Fire: 9 Elements to Wake Up Your Erotic Energy, Personal Power and Sexual Intelligence
"Soul of Abortion is essential reading for everyone, especially the millions of people on the planet who've had abortions and find themselves navigating surprising emotions and new relationship dynamics in a world that doesn't want to talk about it. Rich in emotional and spiritual intelligence, Tziporah Kingsbury holds fearless space for our shadow sides, nurtures our often forgotten bodies, and creates the possibility that relationships can actually grow stronger after an abortion. There is no better time for this compassionate book to be born."
- Kassi Underwood,
spiritual teacher, author of May Cause Love: An Unexpected Journey of Enlightenment After Abortion, and founder of Revolution After Abortion
"Tziporah Kingsbury offers a compassionate holistic perspective on a deeply personal & intimate experience. If you, or anyone you know, has had an abortion, this book will help you navigate the often complex emotional journey that comes with it."
- Destin Gerek,
Transformational Coach and Author at The Evolved Masculine
---
Dieser Download kann aus rechtlichen Gründen nur mit Rechnungsadresse in A, D ausgeliefert werden.
Produktdetails
Verlag: Matrika Press
Seitenzahl: 170
Erscheinungstermin: 08.03.2021
Englisch
ISBN-13: 9781946088697
Artikelnr.: 60817047