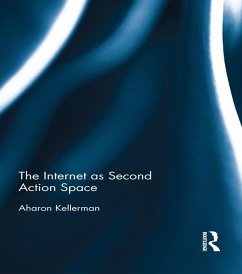 Geräte: PC

mit Kopierschutz

Größe: 1.8MB
Andere Kunden interessierten sich
auch
für
Part I examines the Internet as a platform for action and presents its relations with physical space concerning a range of uses and applications which were traditionally performed in physical space only. It discusses the idea that the Internet has become a second space and explores theoretical perspectives surrounding this notion. The Internet has undeniably made humankind more efficient and connected. Part II explores the Internet as an action space for human life, considering basic human needs, curiosity, identity and social relations. It further considers instances whereby use and application of the Internet cannot be fully performed in real space, mainly regarding people's presentation of identity. Part III explores daily actions over the Internet, such as work, shopping, banking and social interactions. Kellerman also briefly touches on the darker aspects that the expansion of the Internet has made possible - including its role in fraud and other crimes. The concluding chapter discusses people living across the two spaces and identifies potential future developments.
The Internet as Second Actions Space will appeal to students across the social sciences, in particular those studying Geography, Sociology, Media Studies, Internet Studies, Business and related disciplines.
---
Dieser Download kann aus rechtlichen Gründen nur mit Rechnungsadresse in A, B, BG, CY, CZ, D, DK, EW, E, FIN, F, GR, HR, H, IRL, I, LT, L, LR, M, NL, PL, P, R, S, SLO, SK ausgeliefert werden.