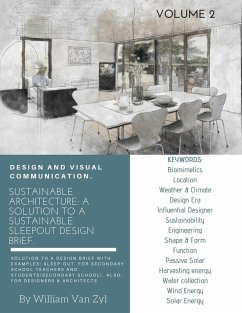 This book is about Design and Visual Communication for secondary school students and teachers.
The book consists of 2 volume
s. It is also beneficial for primary school teachers and students who are interested in sustainable architecture. Designers and architects could also find it an interesting read. The software Google Sketch-up, discussed and illustrated in this book, is very user-friendly. The computer-aided drawing program - Sketch-up - is freeware, which can be downloaded from the Internet. The program is straightforward to use; very young kids, like primary school students, secondary school students, can use it. It is a great design program and many tertiary students, as well as professional architects and designers, make use of it. Included in the brief is general research (inspiration board, design eras & influential architects), and design activities that include possible solutions to a sustainable architectural design brief.
Extensive content is included on freehand sketches, Sketch-Up computer-aided drawings, elevations, site plans, diagrams, screenshots, biomimetics, assessments, and more. The assessment of the building site is presented, including weather and climate factors. Additionally, the author has included links to his YouTube videos (model/movement). These videos were specifically included to assist the solution to sustainable architectural briefs. Links to published academic work by the author, and much more, are included. See Five House Publishing for more details. Exemplars of secondary school student work (sixteen-year-olds) from a New Zealand Secondary School context are included.
Keywords & Key Phrases:
design and visual communication, 16-year-olds, sleep-out, sustainable architecture, sustainable features & functions, secondary school, sleepout, shipping containers sleep-out, armadillo and onion inspired, biomimetics, ask nature how, passive solar design, the living classroom, model, movement, illustrate sustainable function, design eras, modernism, influential designers, modernist architects, generating design ideas, ideation, freehand sketching, ideation, Sketch-Up, computer-aided software, shadows and shading, passive solar, passive ventilation, clerestory, site assessment, weather, climate, harvesting energy from the sun, harvesting energy from the wind, collecting rainwater, location, retrofitting, creativity, innovation, thermal mass, heatsink, animal architecture, New Zealand
Excerpt - CHAPTER 19: Model building to illustrate sustainable architectural principles.
NEW MODEL SUSTAINABLE ARCHITECTURE:
The picture below shows the model built by the author during his New Zealand Govt/Ministry/Royal Society Fellowship at Waikato University in 2012....
Volume 2:
14,900 words with images, sketches, diagrams, references, and video links, and more.
173 size A4 pages.
---
Dieser Download kann aus rechtlichen Gründen nur mit Rechnungsadresse in A, B, CY, CZ, D, DK, EW, E, FIN, F, GR, H, IRL, I, LT, L, LR, M, NL, PL, P, R, S, SLO, SK ausgeliefert werden.
Produktdetails
Verlag: Five House Publishing
Erscheinungstermin: 02.07.2018
Englisch
ISBN-13: 9780473446314
Artikelnr.: 53208808