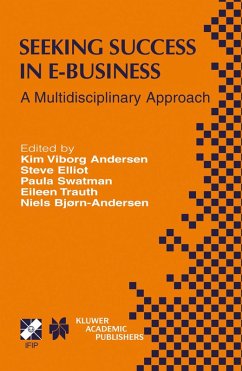 Andere Kunden interessierten sich
auch
für
---
Dieser Download kann aus rechtlichen Gründen nur mit Rechnungsadresse in A, B, BG, CY, CZ, D, DK, EW, E, FIN, F, GR, HR, H, IRL, I, LT, L, LR, M, NL, PL, P, R, S, SLO, SK ausgeliefert werden.
Produktdetails
Verlag: Springer US
Seitenzahl: 646
Erscheinungstermin: 29. Juni 2013
Englisch
ISBN-13: 9780387356921
Artikelnr.: 43999318
Foreword. If e-Business is Different, then so is Research in e-Business; R. Clarke. The Internet and an Opportunity to Re-invent the Banking System; M.S.H. Heng, S.C.A. Peters. Failing with success; F. Ulbrich. Models of Trust in Business-to-Consumer Electronic Commerce; V. Farrell, R. Scheepers, P. Joyce. Conceptual frames of reference and their influence on E-Commerce System Development; G.L. van der Vyver, M.S. Lane. An Evaluation of Intelligent Agent based Innovation in the Wholesale Financial Services Industry; M.-A. Williams, S. Elliot. Enhancing Mobile Commerce: Instant Music Purchasing Over the Air; J.F. Hampe, G. Schwabe. E-Business and Dot.com Driven Transformation - a Comparison of Australian And Indian Experiences in the Telecom Sector; C.R. Unnithan, P.M.C. Swatman. A Strategic Comprehensive Framework for Evaluating is Investments; A. Wassenaar. Supporting CLEAR: A Strategy for Small and Medium Size Enterprise Adoption of e-Business Practices in Atlantic Canada; D. Jutla, T. Weatherbee. Multidisciplinary E-Forensics Methodology Development to Assist in the Investigation of e-Crime; A. Tennyenhuis, R. Jamieson. The Potentialities of Focus Groups in e-Business Research: Theory Validation; S. Lichtenstein, P.M.C. Swatman. Use of the Web for Destination Marketing by Regional Tourism Organisations in the Asia-Pacific Region; L. Burgess, J. Cooper, C. Alcock, K. McNamee, W. Doolin. Internet Marketing Communications: Interactivity and Integration; B. Lawton, S. Gregor. E-Business and the Formation of Strategies; S. Junghagen, H.C.J. Linderoth. Managing a portfolio of supplier relations in internet-driven electronic market places; M. Grieger, H. Kotzab, T. Skjøtt-Larsen. Adoption of E-Commerce in SMEs: Lessons from Stage Models; A. Scupola.E-Government Business Strategies and Services to Citizens; J. Chamberlain, T. Castleman. The Implications of E-Commerce for Software Project Risk: A preliminary investigation; K.J. Stevens, G.T. Timbrell. Framework for Participants' Recognition of Key Success Factors in Electronic Marketplaces; R. Stockdale, C. Standing. Integrating E-commerce into the Retail Supply Chain; B. Roberts, G. Thomas. Integration of an Internet-Driven Supply Chain for a Medium-Size E-commerce Company; R. Maurici, J.L. Cybulski. Consumer Choice, Information Product Quality, and Market Implications; G. Kazakevitch, L. Torlina. On-line Retailing: An Investigation into the Success Factors; W. Golden, M. Hughes, P. Gallagher. Governance for E-business Knowledge Management Systems; R. Jamieson. The Value of E-procurement Models in B2B Exchanges - An Australian Experience; D. Thomson, M. Singh. E-commerce and Human Resource Management: Theoretical Approaches and Issues for the Banking Industry; Y. Blount, T. Castleman, P.M.C. Swatman. When e-business becomes k-business...will it be 'a natural act'? D. Binney, M. Ishak. Designing an Online Self-Assessment Tool Utilizing Confidence Measurement; G. Farrell, Ying K. Leung. Strategizing for Distributed Knowledge Management; M. Holm Larsen, M. Kühn Pedersen. Software Packages; J. Damsgaard, J. Karlsbjerg. Understanding e-business competencies in SMEs; T.R. Eikebrokk, D.H. Olsen. Traditional Australian Media Organisations Adoption of the World Wide Web; D. Burden, P. Joyce, J. Mustard. The Nature of Work for Employees in a Virtual Organisation: The Virtual Worker; Vi-Lam Truong, B.J. Corbitt. Mobile Commerce - The Challenges; N. Wickramasinghe.