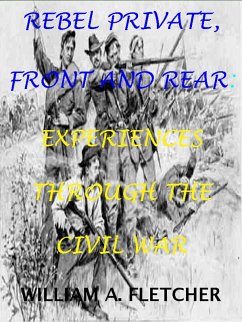 Geräte: eReader

mit Kopierschutz

Größe: 0.35MB

FamilySharing(5)
"5th Texas Infantry: Rebel Private, Front And Rear Experiences in Company "F" in the Civil War"
by William A. Fletcher a first hand account of the experiences of a Texas Civil War "grunt."
William A. Fletcher 1839-1915 was a citizen of Beaumont, Texas who enlisted in Company F of the 5th Texas Infantry of Hood's Brigade in 1861. He fought in the Seven Days' Battle before Richmond, Second Manassas, Gettysburg, Fredericksburg, and Chickamauga. He was twice wounded, at both Manassas and Chickamauga, but he soon recovered and rejoined his unit. After the Battle of Chickamauga, he was wounded in the foot so that he could no longer march long distances. Fletcher was then reassigned to the 8th Texas Cavalry, aka as Terry's Texas Rangers, as Joseph Johnston began his slow retreat from Chattanooga to Atlanta. Near Rome, Georgia, Fletcher was captured, but succeeded in escaping. He remained a part of Terry's Texas Rangers command until Johnston surrendered to Sherman near Bentonville, N. C. in April, 1865. Fletcher returned to Beaumont, Texas, and in the course of the next 35 years, he became president of Long Manufacturing, which made 36,000,000 cypress shingles annually; of Texas Tram and Lumber, with sawmills at Beaumont and Jasper County; and of the Village Mills sawmills in Hardin County. By 1893, he owned 110,000 acres of timberlands. He was a master machinist and millwright, who built and patented his own Fletcher log skidder and loader in 1895. Fletcher also developed the "Fletcher log scale" for measuring the board feet of stumpage of logs floated down the Neches River; attaining national stature among his contemporaries for his successes as a lumber manufacturer.
Very scarce in its original binding, as most of Fletcher's 1908 printing were destroyed in a fire. A must-read for the student of Texas Civil War military history interested in the life of the common Confederate "grunt" during the war, as well as the history of the 5th Texas Infantry and the 8th Texas Cavalry.
There are approximately 74,150+ words and approximately 247+ pages at 300 words per page in this e-book.
NOTE: This book has been scanned then OCR (Optical Character Recognition) has been applied to turn the scanned page images back into editable text. Then every effort has been made to correct typos, spelling, and to eliminate stray marks picked up by the OCR program. The original and/or extra period images, if any, were then placed in the appropriate place and, finally, the file was formatted for the e-book criteria of the site. This means that the text CAN be re-sized, searches performed, & bookmarks added, unlike some other e-books that are only scanned---errors, stray marks, and all.
We have added an Interactive Table of Contents & an Interactive List of Illustrations if any were present in the original. This means that the reader can click on the links in the Table of Contents or the List of Illustrations & be instantly transported to that chapter or illustration.
Our aim is to provide the reader AND the collector with long out-of-print (OOP) classic books at realistic prices. If you load your mobile device(s) with our books, not only will you have fingertip access to a large library of antiquarian and out-of-print material at reasonable prices, but you can mark them up electronically & always have them for immediate reference without worrying about damage or loss to expensive bound copies.
We will be adding to our titles regularly, look for our offerings on your favorite e-book site.
---
Dieser Download kann aus rechtlichen Gründen nur mit Rechnungsadresse in A, B, CY, CZ, D, DK, EW, E, FIN, F, GR, H, IRL, I, LT, L, LR, M, NL, PL, P, R, S, SLO, SK ausgeliefert werden.