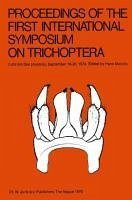 Andere Kunden interessierten sich
auch
für
---
Dieser Download kann aus rechtlichen Gründen nur mit Rechnungsadresse in A, B, BG, CY, CZ, D, DK, EW, E, FIN, F, GR, HR, H, IRL, I, LT, L, LR, M, NL, PL, P, R, S, SLO, SK ausgeliefert werden.
Produktdetails
Verlag: Springer Netherlands
Seitenzahl: 214
Erscheinungstermin: 6. Dezember 2012
Englisch
ISBN-13: 9789401015790
Artikelnr.: 44181938
Systematics and evolution (Chairmen, Nielsen, Vaillant and Ross).- Observations on the Helicopsychidae of New Caledonia.- A progress report on the phytogeny of Rhyacophila larvae.- Contributions to the systematics of the caddis-fly family Limnephilidae. III: The genus Goereilla..- The identification of British Limnephilid and Sericostomatid (s.l.) larvae.- Some Philopotamidae from France.- Athripsodes Billberg and ceraclea Stephens, distinct genera of long-horned caddisflies.- Communication sur trois larves de Trichoptères du Népal (Progress report).- Zoogeography (Chairmen, Nielsen, Vaillant and Ross).- A progress report on the endemic element of Tasmanian Trichoptera.- A preliminary report of studies on neotropical Trichoptera.- The distribution of the Hydropsychidae in Great Britain.- Les Trichoptères de l'espace carpato-balkanique, fournisseurs de documents pour l'étude de l'évolution.- A progress report on studies on Trichoptera of the Eastern Mediterranean Islands.- The differentiation of Drusus species of the group bosnicus.- Some informations on the orobiontic fauna of Trichoptera of the Italian Western Alps above 2000 m.- The taxonomical and chorological problem of Drusus improvisus McL. in the North-Central Italian Apennines.- Ecology (Chairmen, crichton, Moretti and Ross).- Ecologie et reproduction chez les Trichoptères cavernicoles du groupe de Stenophylax.- The Trichoptera population of a temporary ecosystem of the Umbrian Apennines (Perugia, Italy).- The Trichoptera of the stony shore of a lake, with particular reference to Tinodes waeneri.- Studies on the eggs, larvae and pupae of Tinodes waeneri.- A progress report on the North American Macronema larvae: their retreats, food and feeding nets.- The interpretation of light trap catches of Trichoptera from the Rothamsted Insect Survey.- Pollution and caddis-fly fauna.- Revision of some opinions expressed in my 1942 paper.- Changes in the caddis-fly fauna of Lake Erie, Ohio, and of the Rock River, Illinois, over a fifty year period of environmental deterioration.- Morphology (Chairman, Vaillant).- Morphologische Komponenten bei der Osmoregulation von Trichopterenlarven.- A progress report on studies on the functional morphology of the genitalia in three new species of Cheumatopsyche.- Behaviour (Chairman, Moretti).- A progress report on some approaches to the study of larval house building with particular reference to Lepidostoma hirtum.- A progress report on the building motivation in the caddis larva, Lepidostoma hirtum.- House building: Problems about the spontaneous change of the architectural style in the larva of Potamophylax latipennis.- A progress report on the locomotion behaviour of a larva of Lim- nephilidae (Micropterna testacea) in water currents.- A progress report on diel rhythmicity in Trichoptera.- Author index.