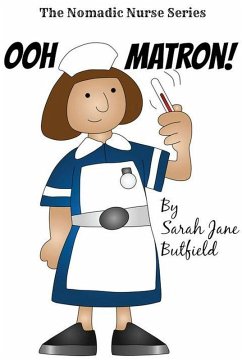 Sarah Jane was entering adulthood with no obvious career path in sight. She had planned a traditional, some would say old fashioned, future. Her vision was to leave school, find a job in a local store, get married and eventually have children. Then everything changed, as she embarked on a journey which would help to map out her future by offering opportunities in a variety of places and healthcare settings. Find out how Sarah Jane deals with births, deaths and everything in between with laughter, tears and humility in this touching, sometimes heartrending, superbly written memoir.
'Ooh Matron!' is the first book in The Nomadic Nurse Series. Each book in the series takes you on a journey through medical specialisms and environments that formed part of Sarah Jane's nursing career. Throughout the series Sarah Jane uses her trademark honest and entertaining writing style to share insights into her thoughts, reflections and the changes in her personal life and circumstances as she moves forward in her career.
5-star reviewers say:
"I laughed out loud at the hilarious antics, and was sobered by the genuine emotional moments that all health professionals will recognise. This is a book that will make you laugh and cry and you'll feel better for it - The perfect prescription." Bookworm
"This funny, yet poignant nursing memoir has Sarah Jane's trademark honest writing style which shines through in every story she tells. From starting her student nurse training in Essex to coping with patients in happy, sad and heart-breaking situations. It gives you a young woman's view into the realities of entering the world of nursing in the 1980's. A highly entertaining and informative memoir which was able to take me from laughing out loud to having welled tears of empathy."
---
Dieser Download kann aus rechtlichen Gründen nur mit Rechnungsadresse in A, B, CY, CZ, D, DK, EW, E, FIN, F, GR, H, IRL, I, LT, L, LR, M, NL, PL, P, R, S, SLO, SK ausgeliefert werden.
Produktdetails
Verlag: Rukia Publishing
Erscheinungstermin: 14.09.2015
Englisch
ISBN-13: 9781516385720
Artikelnr.: 43420765