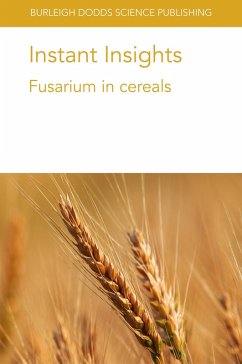 Geräte: eReader

mit Kopierschutz

Größe: 3MB
This specially curated collection features four reviews of current and key research on fusarium in cereal crops.
The first chapter describes how progress can be built over current agricultural practices in integrated pest management plans. It also addresses the disease cycle of Fusarium head blight, host-pathogen interactions, genetic resistance, the role of mycotoxins, as well as the impact of the disease on yields and loss of crop quality.
The second chapter reviews current research on the main fungal diseases affecting barley, as well as what we know about the mechanisms of barley genetic resistance to fungal pathogens. It features detailed discussions on biotrophic foliar diseases such as stem rust and powdery mildew and necrotrophic diseases such as spot blotch and Fusarium head blight.
The third chapter reviews control measures for Fusarium head blight, wheat blast and powdery mildew, including the development of resistant cultivars.
The final chapter considers the current status of global wheat production, the impact of crop loss on food security and the emergence of the current regulatory environment surrounding pesticides. It also features discussions on the current status of the global fungicide market.
---
Dieser Download kann aus rechtlichen Gründen nur mit Rechnungsadresse in A, D ausgeliefert werden.